2021 Networking Forecast: What you Need to Know
2020 was a year of transformation. Teleworking has become the new normal during the Covid-19 lockdown and more companies are embracing this work culture. Will 2021 bring us a new normal? As we look forward to a better 2021, here are some forecast from Zyxel Networks Market Development Managers.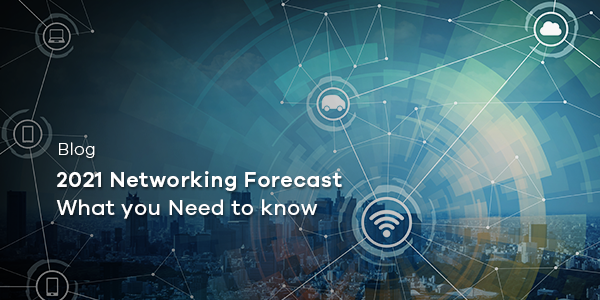 Tri Nguyen's 2021 Predictions
Tri Nguyen is a Market Development Manager at Zyxel Networks and has been with the company for over 15 years. Prior to Zyxel Networks, Tri was working at an internet networking company for five years while attending college at UCLA. Computers and networking are his passion. Network Security Products are his favorite because it is something people typically overlook in their protection of their business. Get to know more about Tri.
A Rise in Home Network Security
My prediction is that network security will see a rise as remote users are going to be working from home more - making connections to their offices. Home networks are much less secure and more open, making it easier targets to breech and find ways to remotely access the main offices through these compromised networks or devices. Therefore, I see a need for home networks to be built up and secured more like business networks.

Multi Gig Ethernet
Multi Gig Ethernet will continue to grow as devices are already more readily available with 2.5 Gig or higher ethernet.



Shawn Roger's Forecast
Shawn Rogers is a Market Development Manager at Zyxel Networks and has been with the company for over 15 years. Shawn started with Zyxel in early 2003, right after he finished his degree at Cal State Fullerton. His favorite Zyxel product is HomeSafe. It was something Shawn helped come up and worked on the original product specs. The product was ahead of its time, providing home network protection and other services aimed at managing home network security towards protecting children's network activity. Get to know more about Shawn.
2021 will be the year of WiFi 6
2021 is setting itself up to be the year of WiFi 6. For those not familiar with it, Wifi 6 (also known as 802.11ax) is the latest technology for home and business wireless networking. It promises us not only faster speeds and higher densities but sets out to solve many issues that have plagued WiFi since the beginning, such as interference between access points or the lack of coordination of airtime utilization between clients. WiFi 6 is also the first new WiFi standard to improve 2.4ghz wireless networking since 802.11n (WiFi 4) in 2009, as the previous 802.11ac standard (WiFi 5) only applied to 5Ghz networking.

WiFi 6 got off to a bit of a slow start, due in large part to lack of WiFi 6 client devices. There has also been some confusion in the market as some products being marketed as WiFi 6 are using chips based on early drafts of the standard and lack many of the key WiFi 6 features that set WiFi 6 apart from previous WiFi standards. In addition, to cut costs, some manufacturers are only putting WiFi 6 on the 5Ghz radio, leaving the 2.4Ghz radio operating with older WiFi 4 technology. And just so there is no confusion, all Zyxel WiFi 6 products support all the key WiFi 6 features and include WiFi 6 on both the 2.4 and 5Ghz radios.

We have seen a huge uptick in WiFi 6 in the later part of 2020. More devices such as laptops and mobile phones are coming with WiFi 6 clients built in.
In 2021, we expect WiFi 6 will continue to grow. With continuing trends for both higher device capacity and bandwidth utilization in both home and business applications, WiFi 6 is ready to solve many of the issues that have long been accepted in the WiFi space. The adoption of WiFi 6 also is driving demand for multi-gig switches, as the new WiFi 6 APs can easily exceed 1Gbps actual data throughout.

Floating in the Clouds and Social Distancing
The events of 2020 have left many of us wishing we could just float away up into the sky and get away from it all. And while it might not be possible to float up to the clouds in real life, the move to cloud is continuing when it comes to computer networks. The need to improve social distancing has left many of our customers looking for ways to reduce site visits and the time spent on site, and Zyxel's Nebula cloud has helped them do that. By offering super easy remote management, monitoring, troubleshooting, and upgrades, we have continued to see growing adoption of cloud management in networking. Hopefully 2021 will see a reduced need for social distancing, luckily the benefits of cloud managed networking extend just social distancing and will continue to save time and money for our partners and should continue to grow in 2021 and beyond. Nearly our entire line of business networking solutions can be managed in the cloud, and our USG Flex series of firewall gateways will be Nebula manageable later in 2021.

Hybrid Model of Networking
Another trend we are seeing is the move to a hybrid model of networking, with mail and application servers moved out of the back closet to Amazon or Microsoft cloud platforms. Our Zywall line of products can work with Amazon AWS and Microsoft Azure to create Virtual Private Clouds, where servers and applications appear to be on the local network to users but are instead hosted in the cloud.

If you need guidance for cloud networking solutions, connect with our account managers. Our team has extensive experience helping our customers implement innovative networking technologies.
Jacob Olson, Account Manager, Central/West Region: 714-678-0754
David Chen, Account Manager, East Region / Canada: 714-632-0882 ext 1650