Meet Zyxel Networks' Market Development Manager, Shawn Rogers
For this month's employee spotlight, we are featuring a series on our Market Development Managers. The first part features Shawn Rogers who has been with Zyxel Networks for 17 years. Find out how Shawn got started with Zyxel and what is his favorite Zyxel Networks product.

Q: When did you start working for Zyxel Networks and what drove you to start a career with the company?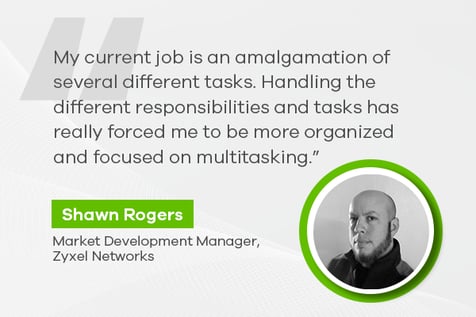 Shawn: I started with Zyxel in early 2003, right after I finished my degree. I began life as a sales assistant with hopes of moving into marketing at some point in the future. Instead, I ended up being pulled into the Product Management team. Before Zyxel, I have worked as a Pet Store manager, headed up a web development team at a dot com startup and worked as a project manager for a company doing data collection and cleaning.

Q: You have been with Zyxel Networks for over a decade, what have you learned from the company that you apply in your personal life?
Shawn: My current job is an amalgamation of several different tasks. Handling the different responsibilities and tasks has really forced me to be more organized and focused on multitasking. This has helped in my regular life, whether it be managing the household budget or making sure things around the home do not get neglected.

Q: As a Market Development Manager, what is the favorite part of your job? Any memorable moments?
Shawn: The travel and ability to visit other countries and work with my counter parts in other parts of the world, otherwise, I never would have gone to. If it were not for the need to travel to Taiwan, I never would have met my wife.

Q: What is your favorite Zyxel product and why?
Shawn: Our original HomeSafe product. It was something I helped come up with the concept for and worked on the original product specs. The product was ahead of its time, providing home network protection, content filtering, and other services aimed at managing home network security with an eye towards monitoring and protecting children's network activity. The final product was pretty good but we did not have the marketing budget to really educate the market. In the last few years, we have seen very similar product proliferate, such as Disney's Circle and many home routers bundling in similar services.

Q: Let us talk about the future, what are your goals you would like to accomplish in life or while with Zyxel Networks?
Shawn: I would like a chance to do more international travel, outside of work. Plenty of more places to see and experience. Covid has really put a cramp on that for me, as I was supposed to take my mom to Japan to visit Tokyo Disneyland this year.

Q: What do you like to do outside of work?
Shawn: I am into rather nerdy things. Planting shrimp aquariums, carnivorous plants, retro video games, collect lucha libre masks, and enjoy international travel.