Is your Data Secure while your Employees are Working Remotely?
Telecommuting or remote working has become the new normal during the Covid-19 lockdown. According to cnn.com more and more companies are embracing the work-from-home business plan permanently.

In honor of cybersecurity awareness month, Zyxel Networks wants to remind you to keep security in mind especially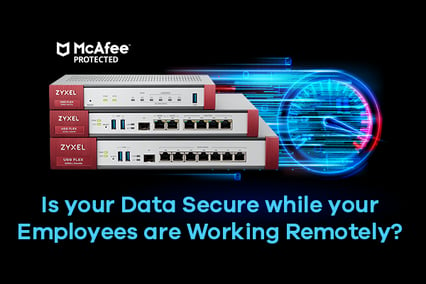 when working from home. Please safeguard your data and devices with the same standards you apply working in the office. Cybercriminals are taking advantage of the coronavirus outbreak to send phishing emails with dangerous links to employees. In addition, remote workers are dependent on internet connectivity which exposes them to malware and other malicious actors. Public internet connectivity can allow cybercriminals to intercept every piece of data transmitted and hacking attacks are unavoidable. Confidential information can be passed on through emails, file transfers and conversation without staff members being aware of it. It is imperative to secure your company data by using a VPN, web filtering, anti-malware, and firewall.
Tri Nguyen, Market Development Manager at Zyxel Networks says, "The remote working shift has brought to light the security issues that exist in most remote home offices and something that needs to be addressed. Home networks tend to be more open to make for easier connectivity between consumer devices. Company sensitive information and access to the company network remotely needs to be secure and safe, using VPN encryption, UTM and firewall rules to only allow access to authenticated users."

Zyxel Networks USG FLEX Series supports IPsec, SSL, and L2TP-based VPNs, making it an ideal solution for providing a secure network to access remote or home-based workers. Zero-configuration remote access removes complicated setup challenges making it easier for employees to establish VPN connections to the office without the need for IT support. Zyxel's USG FLEX 100, USG FLEX 200 and USG FLEX 500 firewalls provide robust, scalable network security for SMBs. The new firewalls also provide VPN remote access, WiFi access point management, and comprehensive hotspot functions to fulfill business needs within one box.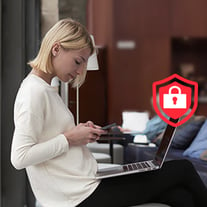 USG FLEX makes it easy to maximize the productivity of remote workers by providing flexible, secure VPN connectivity including IPsec, SSL, and L2TP over IPsec VPNs to the company network whether working from home or on the road. Zero-configuration vastly reduces the workload of the IT team and enables workers to adapt quickly to a work-from-home environment. The built-in wireless access point controller enables the management of the WiFi network without the need to purchase an additional controller.

To learn more about how USG Flex Series can secure data networks and provide remote access for teleworkers, click here.
Check our webinar about how to figure out which model is right for your customers and discover how to migrate and upgrade to higher performance UTM!