Why you Should Become a Zyxel Authorized Partner (ZAP)?
In a competitive networking industry, you want to be innovative and always stay on top of the competition. It is tough out there. How do you take the first step? Consider becoming a channel partner.
Here at Zyxel Networks, we value our relationship with our partners. When you become a partner, you benefit from world-class training and US-based technical support, secure new revenue streams for your business, and the opportunity to boost profitability and success.
ZAP
What is ZAP? ZAP stands for Zyxel Authorized Partner. It is designed to provide channel partners unprecedented opportunity to give businesses a growth trajectory. The program provides solutions providers the tools and resources necessary to create and sell enterprise-class solutions scaled to meet the needs and budgets of the mid-market.
Jacob Olson, Zyxel Networks Account Manager explains, "Via the Partner Program, Zyxel provides the vital resources for a business to grow. With access to pre-sales engineering, product training, project support, and discounts through distribution any VAR/MSP/SI has everything they need to use Zyxel Networking Solutions to compete with all brands in the networking industry.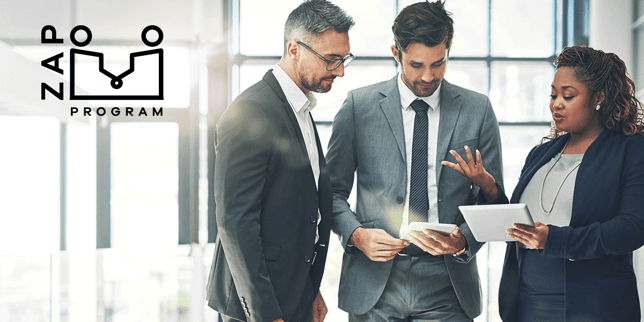 Bob Kehr, CTO of Kehr Technologies Inc. explains how ZAP benefits the company, "ZAP and networking has become a very important part of our business. The available resources such as sales and marketing, and the full backing of the manufacturer in product support has enabled this to become the fastest growing part of our business."
Here are Reasons Why you Should Become a Zyxel Networks Channel Partner:
Promos/Discounts


Trade-up now to take advantage this offer while it is valid until June 30th, 2021.
For more details about this promo, go to this page. https://info.zyxel.com/nebula-together-tradein
Direct Access to Account Managers
Aside from being experts on Zyxel Networks sales tools, our account managers are also knowledgeable product and industry experts. We have three account managers at Zyxel Networks who represent west, central, and east regions. Our CAM (Channel Account Managers) are focused on answering questions quickly, working proactively to remove roadblocks, and looking for ways to help.

Local Service Tech Support




We are headquartered in Anaheim, CA where our partners are supported by a team of experienced sales, logistics and technical support staff. Our location also houses our testing and integration labs to make sure our product can fit for you. Whether you are a one-person shop or a company with hundreds of employees, we are available to you as your networking ally.

Advanced Expertise and Resources
ZAP members have the power to access our full range of resources from channel partner webinars to diving deep to our sales tools training such as MarketPlace, myzyxel.com, trade-in program and Zyxel webstore.
Market Credibility
Zyxel Networks has been creating connections for nearly 30 years. We have 100 million global connections, 150 global markets served, with 700,000 businesses working smarter with Zyxel solutions. We're building the networks of tomorrow, helping unlock the world's potential, meeting the needs of the modern workplace, and powering people at work, life and play.
Innovation
We take pride in your network. Our innovation hasn't stopped since we first introduced from the world's first integrated/data/fax modem in the 90s through the 2000's with our arrival of the first palm sized portable personal firewall. This innovation has been celebrated with the numerous yearly awards earned by our engineering team such as 2021 Partner Program Guide, 2020 CRN Tech Innovator Award Finalist, recognized by CRN® in its 2020 Partner Program Guide, 2021 Taiwan Excellence Award for the Armor G5 12-Stream 10G WiFi 6 Router and many more.

Comprehensive Portfolio for end-to-end Network Delivery




At Zyxel, we pretty much do anything that is connected to networking such as security appliances, wireless solutions, LAN Connectivity (switching), gateway and access solutions and network management.
Jump start your business to profitability. Sign up now!

If you need guidance to become a Zyxel Partner, connect with our account managers.