How Zyxel Surveillance Switches Differentiate from Other Brands
Surveillance switches or PoE switches are network switches that are used to connect and power devices and transmit network data. These switches are an excellent choice for enterprise organizations that have numerous security cameras. In short, PoE switches are one of the most reliable ways to power security cameras and they won't break or degrade. But the question is how Zyxel surveillance switches compare with other brands.
PoE usage
Most CCTV installers have no idea how much power their cameras are consuming, larger PoE power budget brings a worry-free installation experience. It can power up multiple IP cameras, even when all ports are connected.
Zyxel's PoE switches: The PoE LED indicator is the standard feature of Zyxel's PoE switches for an instant view of PoE usage.
Ports on PoE
In surveillance installation, it's normal for one or two ports on the PoE switch to be required to connect to Camera Management System (CMS), storage, or other switches.
Zyxel surveillance switches are equipped with additional uplink ports fulfilling the need for cascaded surveillance networks without occupying ports for IP cameras.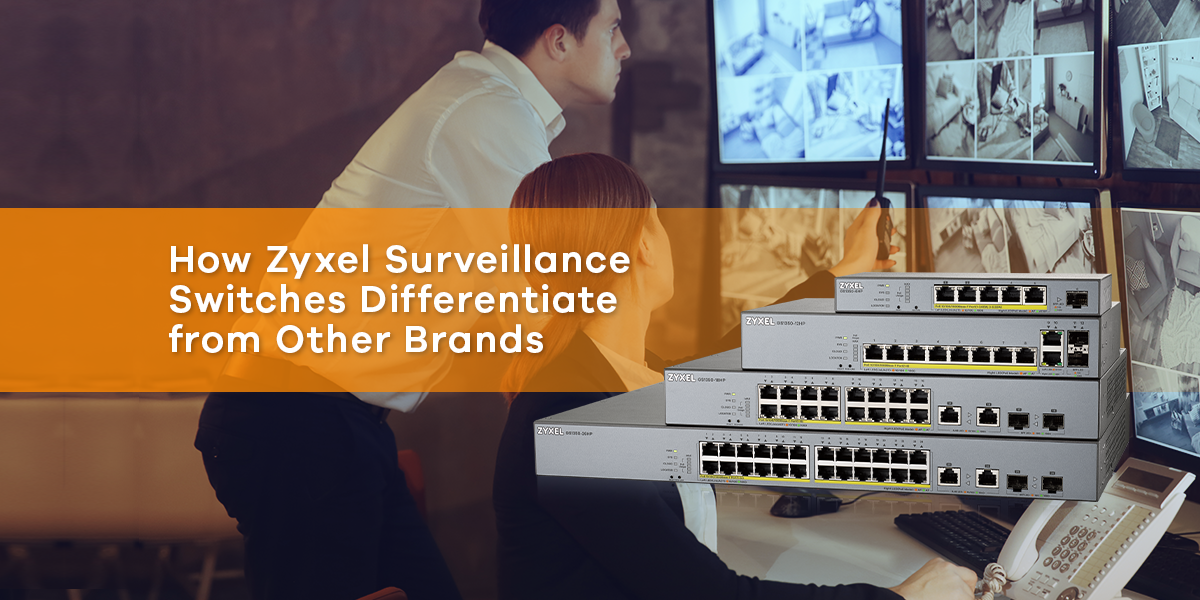 Surveillance applications
8/16/24-port PoE switches are most frequently used in surveillance applications.
Zyxel surveillance switches come with Unmanaged and Managed series, both of which include small to large port models suitable for CCTV installations of all sizes.

Cost and time for deployment
Users require additional PoE switches or extension hardware to extend power and data over 100 meters, this adds up cost and time to the deployment.
Zyxel surveillance switches break through the 100-meter limitation with an extended range mode that achieves a remarkable 250 meters of transmission distance. No additional switches are required, saving you time, effort, and money!

Lightning surges and electrostatic discharges
The PoE switch is prone to lightning surges and electrostatic discharges because IP cameras are often installed outdoors. It causes damage to the PoE switch that consequently results in a disabled surveillance network.
Zyxel Surveillance Switch GS1350 Series is designed with Patented Ethernet Protection on each port to protect the switch from lightning surges and electrostatic discharges. The selected power supply is purposely built to strengthen protection from surges.

When the IP camera goes offline
It is common that PoE switches will stop supplying power to IP cameras temporarily during firmware upgrades, rebooting, or configuration updates takes time for IP cameras to go live again until the power supply is back on during the system maintenance.
Zyxel Surveillance Switch GS1350 Series features unprecedented Continuous PoE capability, which ensures non-stop power supply to IP cameras while the switch is undergoing firmware upgrade or rebooting.

Nothing beats the ease of installation and user convenience. Zyxel Surveillance Switches are born for reducing truck rolls and the highest possible stability and security.

If you need guidance about Zyxel Surveillance Switches, contact our account managers.
Andy Gujral, Account Manager, West Region: andyg@zyxel.com, 714-632-0882 ext. 167
Jacob Olson, Account Manager, Central Region: Jacob.Olson@zyxel.com, 714-678-0754 ext. 265
David Chen, Account Manager, East Region / Canada: David.Chen@zyxel.com, 714-632-0882 ext. 165