Why MSPs are Now in a Prime Position since the Pandemic?
Most SMB owners have one IT person in the office who sets up workstations for new employees, installs/maintains the software, recommends electronic purchases, provides tech support, schedules upgrades, and trains new software. On the other hand, most SMB owners ask, if I have an IT guy on site why do I need an MSP (Managed Service Provider)? An MSP manages more than one area of your company - from staffing and HR to payroll, IT infrastructure, vendor management, security, administration, and applications. MSPs can handle the most complex business processes. MSPs are hired to be strategic partners with the main objective being to operate the businesses efficiently. According to Gartner, a managed service provider (MSP) delivers services, such as network, application, infrastructure, and security, via ongoing and regular support and active administration on customers' premises, in their MSP's data center (hosting), or in a third-party data center.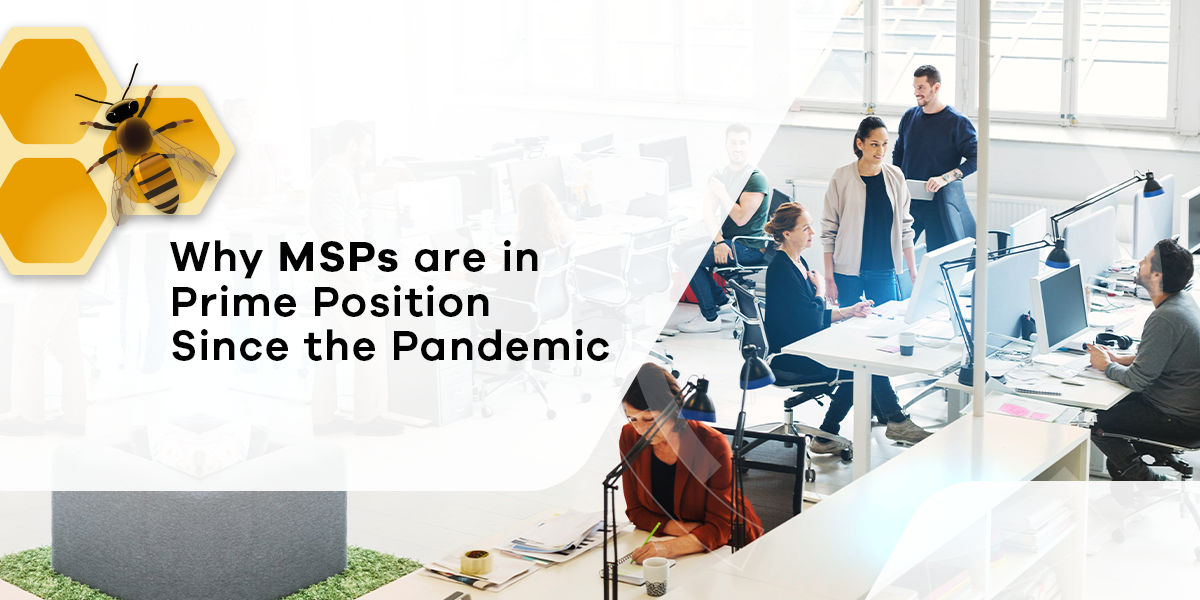 Benefits of hiring an MSP
1. MSPs maintain business continuity daily so business owners can focus on growth.
2. An onsite IT person comes with unexpected expenses, if you have MSP, your IT expenses are predictable every month because most MSPs are subscription-based.
3. Training a new-hired IT employee can cost a large amount of money and there's no guarantee that the new hire is reliable and will stay. MSP can recommend or upgrade a new system without training a new employee.
4. MSPs can support your business 24/7. Remote monitoring can provide immediate corrective action therefore your MSP can help your business reduce risks and protect your assets.
5. MSPs can run reports and supervise audits to demonstrate that your business is meeting all requirements.

MSPs are now in a prime position since the pandemic.
During the start of the pandemic, we see an immediate need for change in how networks are deployed, maintained, and managed. Managed service providers are in a prime position to help customers build and manage networks that meet the needs of the new normal. As an MSP, you'll be equipped to support modern network challenges and secure new revenue streams for your business.
The MSP industry is anticipated to see a CAGR of 11% by 2025. That's why at Zyxel, we're enabling resellers to easily implement managed services into their existing portfolio while enhancing the managed services offering of existing MSPs. Read on to explore our managed services, including Hardware-as-a-Service, preconfigured hardware, and cloud-managed networking on Zyxel Nebula.

Why partner with Zyxel?
Take the next steps to become a successful Zyxel MSP today by signing up for our MSP partner program. As a partner, you'll have access to the tools and resources necessary to create and sell enterprise-class solutions scaled to meet the needs and budgets of the mid-market. Our on-demand training videos will help you get started!
Once you signed up, you will learn our centralized secured Cloud platform Nebula, which allows you to connect, protect, and manage Zyxel's compatible Nebula access points, security firewalls, and switches.
We offer technical and sales training to support you on your Zyxel journey and provide hands-on support as you develop your MSP proposition. Once onboard, we'll even share qualified leads to help ensure your success! Our powerful and secure cloud network Nebula will get the richest collaboration with everything you need on a simplified and unified Nebula platform.

To learn more about "Becoming an MSP" we invite you to attend our special webinar which will be on May 23 at 11 am PDT. Karl Palachuk a podcaster and an expert on MSP will host this webinar and will reveal how to make the move to managed services. Palachuk will also interview Brenton Twite, General Manager at Digital Bay will be talking about how his company made the transition to become an MSP. Save your spot now by registering here.