The year 2021 continues to be a challenging year with the pandemic but we can say that it's better than 2020 as Covid-19 average daily rate of cases, hospitalizations are on the decline according to CNN. Employees are going back to the office on hybrid and music venues are gradually opening up again for live audiences.

Thanksgiving is just around the corner, and there are still things to be grateful for each day even though we're not out of the woods yet with this pandemic. At Zyxel Networks, employees speak about how thankful they are whether big or small things.


Ruchel Freibrun, Marketing Specialist


"We've all been through a tough year, but I am still grateful for many things. I am grateful for my family who always makes me laugh. I am grateful for friends that celebrate good times and give you support during not-so-good times. I am grateful for a job that I love which gives me the flexibility and helps me grow in my career. Finally, I am grateful for co-workers that value each other's ideas and respect each other."

Jacob Olson, Channel Account Manager, Central Region
"I am extremely grateful to work for Zyxel Networks. They go that extra mile to take care of their staff! I am thankful for this career in which I consider it a passion having the opportunity to share accumulated knowledge with partners in our industry."



Esteban Pena, Production Manager


"Every organization has its ups and downs and Zyxel overcame some challenges, and I am thankful for that. I am truly thankful for my family who has been my motivation."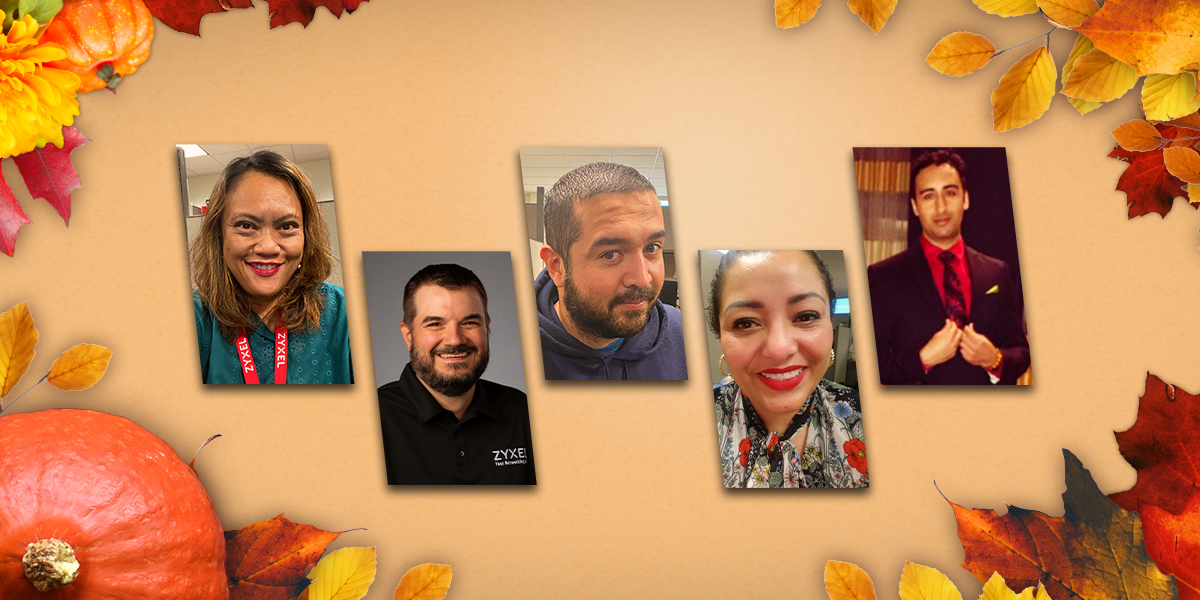 Olga Diaz, Channel Sales Coordinator


"It can be challenging to find reasons to be grateful after almost two years of living in a limited world due to a pandemic. But despite the situation, I am very thankful for my Zyxel family. Zyxel has been able to maintain operations without major changes - giving us employees peace of mind knowing we can wake up to a job to provide for our families."
Andy Gujral, Channel Account Manager, Western Region


"First off, I am thankful for my health and success in my life, my loving family, and supportive friends. To be working at a company with great people that want to help each other succeed is such a blessing."