What if one of your users just clicked on a link in a phishing email causing a companywide virus outbreak but do you know which one?
Another employee consumes company bandwidth with unauthorized network use, do you know who it is?
SecuReporter is a cloud-based security analytics software solution that gathers data from the ZyWALL series providing network administrators with centralized control of all activities and potential threats across managed networks. We brought the best minds in the IT industry together to create an all-new SecuReporter. It provides an intuitive working interface for IT professionals.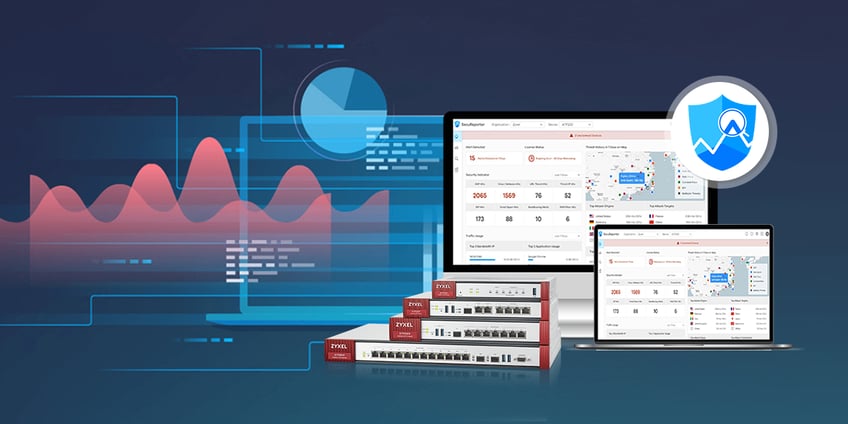 Nebula Support
SecuReporter supports nebula networking products, enabling it to get a fast response to security events that occur in your access points and network switches. It is an easy path to comprehensive security analytic reporting and compliance across your organization's networks.
Cloud-Based Service
The Zyxel CNM SecuReporter is cloud-based intelligent analytics. Easy to scale up cloud capacity, drawing on the service's remote servers, allowing to cut out the high cost of hardware.
Customized Reports
SecuReporter provides customized reports in PDF formats. Users can use their own logo, title, comments, or suggestions for their report. In addition, Users can also generate a report on the spot or schedule it daily, weekly, or monthly.
User Aware Analysis
IT security managers help spot out risky users immediately without the extra effort of correlating additional network logs, events, and application overview including real-time usage sent/received usage, source, and destination IP with an immediate update.
Easy Setup and Monitor
With Visual content and user-friendly search, allowing user to drill into data and analyze quicker.
Data Protection
We are committed to following the latest national data protection regulations: GDPR and OECD Privacy Principles.
UTM Enabled Services
You can realize the full power of SecuReporter by enabling UTM services on the hardware device. This will capture threat and usage data to the most detailed levels.
Forget scanning network logs for clues, SecuReporter not only saves valuable time and IT resources it analyses each event down to the user level allowing administrators to take precise action.
For any time anywhere coverage, the SecuReporter app provides IT administrators with a mobile monitoring platform so they never miss a security alert.
To get an in-depth view of SecuReporter, view our webinar "Configuring Zyxel Networks Cloud-Based SecuReporter".