There's Never Been a Better Time to Make Zyxel your Networking Ally!
Every business owner wants their business to succeed. With the right partner or ally, it can help increase your profits, expand your clientele, and get rewards.

The advantages of having a trusted partner can be a valued business companion. At Zyxel Networks, we value our relationship with our partners. When you become a partner, you benefit from a plethora of tools and resources to boost profitability and success, including deal registration, discounts, training webinars, tech support, lead referrals, and access to sales engineers. For solution providers such as managed service providers (MSPs), value-added resellers (VARs), systems integrators, and strategic service providers, a critical factor when assessing which IT manufacturers, service providers, and distributors to team within building world-class technology solutions is the breadth and depth of the partner programs those companies offer. Strong elements such as financial incentives, sales and marketing assistance, training and certification, technical support, and more can set a vendor apart and play a key role in boosting partners' long-term growth.
What is ZAP?
ZAP or Zyxel Authorized Partner Program provides value-added resellers and service providers with the tools and resources necessary to create and sell enterprise-class solutions scaled to meet the needs and budgets of the mid-market. Also, you can join our program without any requirements at the Bronze level.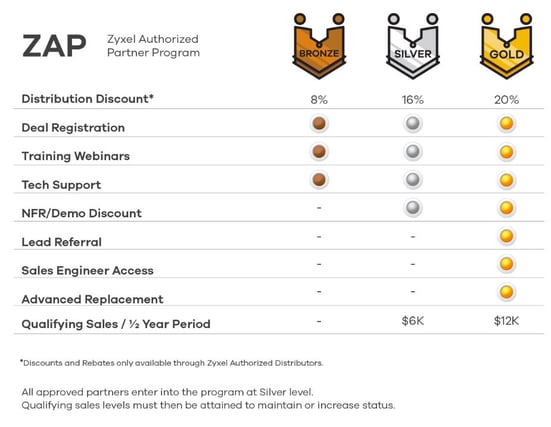 ZAP partners receive support throughout each step of the sales process and are assigned a dedicated sales account manager that assists with pricing, technical support escalations, stock and distribution coordination, and application consultation with a systems engineer or product management.

David Soares, honored as a 2023 Channel Chief and Zyxel Networks Executive Vice President Channel Sales and Marketing North America explained, "We made it a priority to help our authorized resellers work around supply chain shortages by finding available solutions for their customers' needs."

About Zyxel
Zyxel has garnered several accolades such as TMCnet Zero Trust Security Excellence Award for the USG Flex Firewall Series and was recognized by CRN®, a brand of The Channel Company, in its 2023 Partner Program Guide.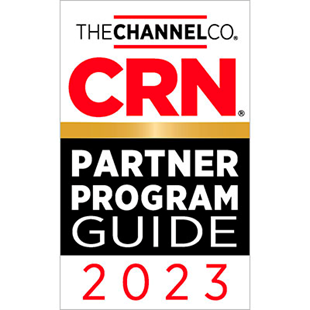 Zyxel Networks is a technology provider with over 30 years of experience, specializing in delivering solutions for small to medium-sized businesses and the enterprise edge in partnership with VARs, MSPs, and System Integrators. We enable network professionals to connect and protect organizations with greater ease by bringing together intuitive, scalable, and secure cloud management with a complete portfolio of network devices.


How do you start?
Getting Started is easy. Just fill out the simple online application. One of our Channel Managers will review it and respond within two business days with the status of your application.
There's never been a better time to make Zyxel your networking ally! Reach out to your Zyxel Sales Account Managers if you have any questions about being a Zyxel Channel Partner.