The All-In-One Guest Access Solution of Tomorrow, Delivered Today: UAG4100/2100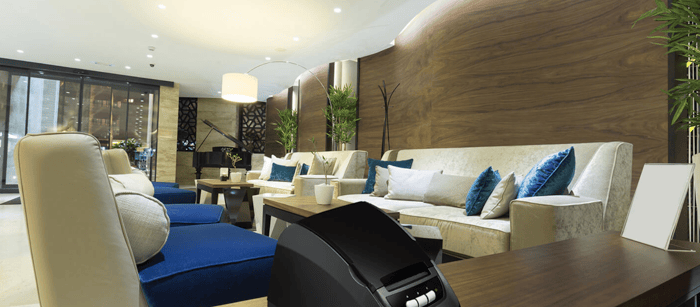 Providing internet access in hospitality venues can be a daunting task and having satisfactory Internet access is not simply a matter of installing Ethernet cables and wireless access points where guests need them. Hospitality businesses need to address the issues of access management, regulation compliance, and providing sufficient bandwidth for an exploding amount of wireless mobile devices. Also, unlike with homes or offices, hospitality venues have users come and go in large numbers, making access management and bandwidth abuse prevention exceptionally challenging.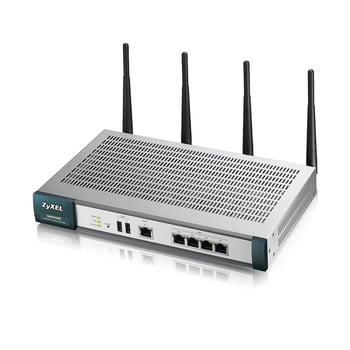 The Zyxel UAG4100/2100 Unified Access Gateway is a next-generation, all in one wireless hotspot/access gateway designed to fulfill the hospitality challenges of both today and tomorrow. In addition to account management, billing, and data retention capabilities, the UAG4100/2100 offers premium features—like 802.11 a/b/g/n dual-radio WiFi and a built-in WLAN controller—to deliver better scalability, capacity, and performance to fulfill tomorrow's guest access demands.
Generating Revenue
The Zyxel Unified Access Gateway is designed with advanced billing, user authentication, and access control features that help hospitality businesses manage guest accounts, block unauthorized access, and generate revenue with their Internet services. It gives hospitality businesses the flexibility to offer WiFi access as a free service, a tiered service (premium when a purchase is made), or a paid service, depending on the preferred business model.
Guest Account Management
Featuring a built-in account generator and a Web-based authentication portal, the UAG4100/2100 helps hospitality businesses provide controlled network access to hundreds of guests with ease. Simply by entering the provided account information in the captive portal, guests can get secure wired or wireless access to the Internet in a matter of seconds. Additionally, the UAG4100/2100 supports external RADIUS servers and external portal page redirection for added deployment flexibility.
Billing System
Hospitality businesses can create up to 10 pre-paid billing plans with the UAG4100/2100. Billing plans can be customized with varying bandwidth speeds, service duration, and level of payment.
SP350E Service Gateway Printer
The SP350E and UAG4100/2100 combination is the perfect solution for WiFi hotspot applications. The SP350E enables one-click billing and account generation, which offers easy operation for staff members and smooth services flows in hotel lobbies, conference rooms, waiting areas and busy restaurants and cafés.

Sample Small Business Application Diagram: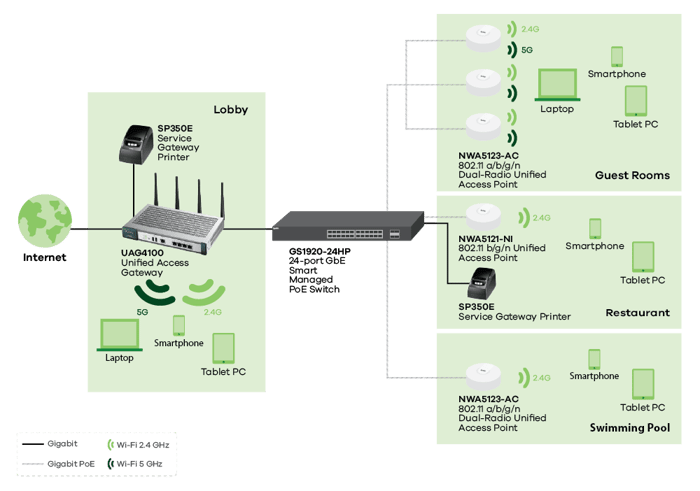 Additional Benefits Include:
Lowered TCO:
• Services provided through an one-box device
• Scale up concurrent login numbers and managed APs without the need for hardware upgrades Higher customer satisfaction
• Non-stop Internet uptime with dual WAN support
• Concurrent 2.4 GHz and 5 GHz Wi-Fi bands with combined rates of up to 600 Mbps
Higher Customer Satisfaction
• Non-stop Internet uptime with dual WAN support
• Concurrent 2.4 GHz and 5 GHz Wi-Fi bands with combined rates of up to 600 Mbps
Increased Revenue Generation
• Advanced billing feature offers flexible free, paid and tiered Wi-Fi services
• Billing plans can be customized to suit different needs
Secured Network Connectivity
• Built-in firewall provides secured network services for both customers and the staff
• Works with Unified Security Gateway (USG) for advanced network security