What is the Network Security that is Affordable for Small Business Owners?
Small businesses are often the target of cyberattacks. It's because SMB owners believe that cyber criminals only go after behemoths and have limited time to devote to cybersecurity. In addition, most SMB owners need help to afford cybersecurity.
According to sba.gov (Small Business Administrators), small businesses are desirable targets because they have information that cybercriminals (bad actors, foreign governments, etc.) want, and they typically lack the security infrastructure of bigger enterprises to adequately protect their computer systems for disseminating data and information, storing, and accessing.
Cyber threats/data breaches are constantly evolving. Successful cyber criminals may even put SMBs out of business due to a lack of cybersecurity measures. This is where Zyxel's SCR (Secure Cloud-Managed Router) 50AXE comes in.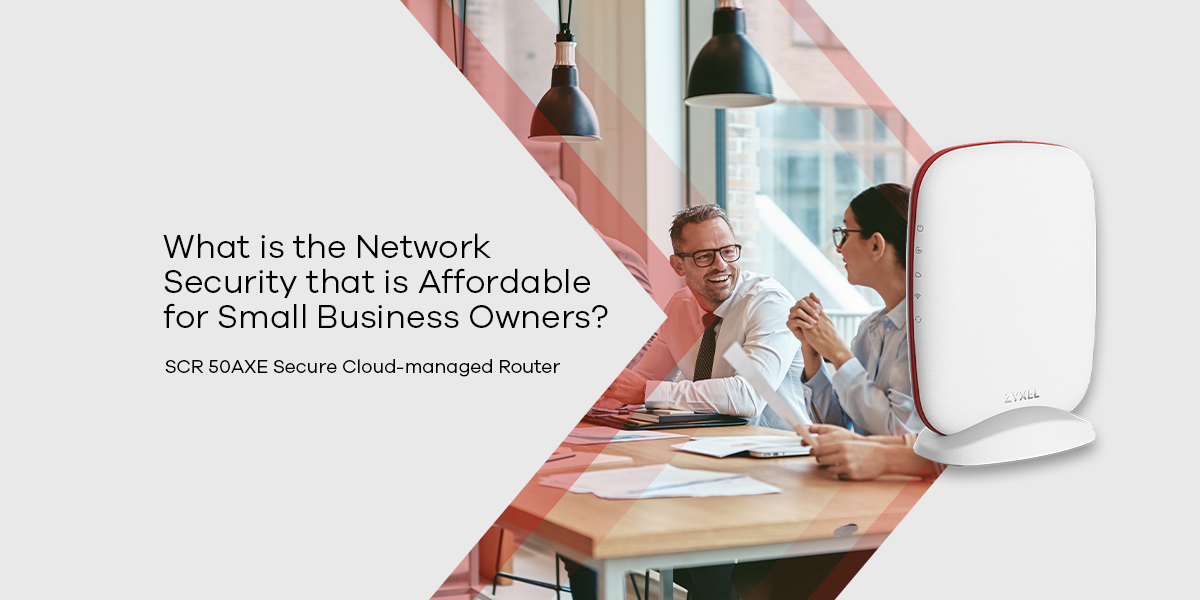 Zyxel's SCR 50AXE incorporates a business-class firewall, VPN gateway, the latest WiFi 6E connectivity and a built-in subscription with free security to protect against threats like ransomware, phishing, malware, spyware, and viruses. Moreover, the SCR 50AXE is a user-friendly network security in a single secure cloud router solution that provides a free subscription for hybrid workers and small business owners.
Aside from subscription-free network security, the SCR 50AXE detects malicious network activities, and prevents the drive-by download of wide-spreading threats.
Tri Nguyen, Channel Sales & Product Development Manager at Zyxel explained, "SCR 50AXE provides an affordable, easy-to-manage, high-performance solution that securely extends the corporate network into remote office environments enabling the company and remote workers to realize the many benefits afforded by the adoption of work-from-home policies."
Features:
Free Subscription with built-in security - SCR 50AXE blocks intrusion, exploit, dark web, ads, VPN proxy, and stops email fraud and phishing.

Optimized WiFi 6E - Tri-band WiFi operates concurrently to boost data rates up to 5.4 Gbps. Utilizing the new 6GHz band with super-wide 160MHz or 80MHz split channels provided through WiFi 6E technology, SCR 50AXE simultaneously delivers maximum speeds to multiple devices with low latency.

Easy onboarding and management with Nebula app - The cloud-native SCR 50AXE is easily deployed and managed with Zyxel's intuitive Nebula platform. Using the Nebula app, users can onboard the secure router with just a few clicks, set a single WiFi name for the entire network, centrally manage network connectivity and security from anywhere, and view the network security posture at a glance.

Easy Guest Access Management - SCR 50AXE simplifies guest access by combining multiple devices from different networks into one logical network (VLAN).

Optional SCR Pro Pack Increases Functionality and Security - The SCR Pro Pack license unlocks all web filtering categories, enabling users to track and regulate website access based on content categories.
To learn more about SCR 50AXE, its many benefits, and its affordable price, attend our free webinar on May 16, Tuesday at 11 am PDT. Register here.