October is National Cybersecurity Awareness Month
Cyber-attacks are now common to individuals, community, large scale corporations and even government institutions. They are terrifying because it can disrupt and paralyze your computer systems, steal your personal identity and many more. Cyber attackers do not discriminate, and they remain invisible. With cyber threats at an all-time high, the U.S. Department of Homeland Security and the National Cyber Security Alliance registered October in 2003 as National Cybersecurity Awareness Month (NCSAM). In addition, NCSAM objective is to ensure every citizen has the resources they need to stay protected and secure online while growing the resilience of the Nation against cyber threats.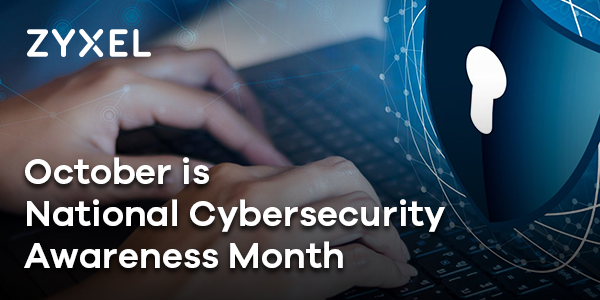 The ZyWALL ATP Firewall is an advanced protection that can block and prevent unknown threats. It is empowered with smart cloud intelligence giving seamless protection against all those Advanced Persistent Threats, achieving ultimate in-depth defense of future unknown attacks. With the new enhancement, the Cloud Query in the cloud threat database can check any malicious threats within seconds. Tri Nguyen, Senior Market Development and Product Manager at ZYXEL America says about NCSAM "Our responsibility is to help businesses be AWARE that no matter what size a company is, we are all connected the same cyber threat filled internet."
To learn more how you can monitor, block and prevent unknown cyberattacks click here!
To check the next generation firewall and smart cloud click here!