Quick Tips For Better Web/Video Conferencing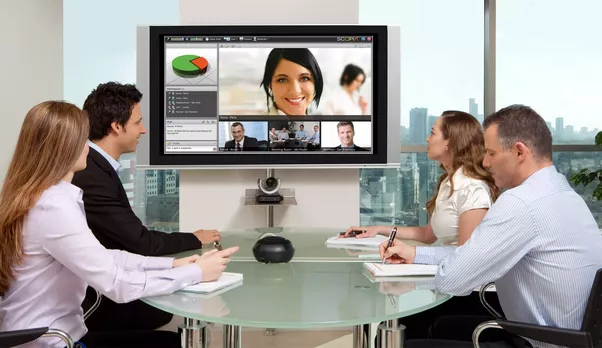 Web and/or video conferencing continues to gain momentum, especially as more business professionals are working from home/telecommuting and employing flexible work schedules. And as web/video conferencing grows in popularity, it's become essential to brush up on some must-know etiquette tips to ensure you bring your A-game to your next broadcast meeting:
Tip 1: Be ready 10 minutes early. Web conferencing requires a lot of moving parts, and the sooner you prepare and get your computer microphone and camera all calibrated, the better. This goes for all participants.
Tip 2: Pay attention to how you look. Nobody wants to see a dimly lit person, let alone a messy or disheveled room in the background (keep the pets out of view, too). If you are participating in a web conference from a conference room, sit in a manner where everyone can be seen and heard. If a webcam isn't available and you're still participating, consider uploading a photo of yourself so people can see who you are. Lastly, dress the part as you would in the office.
Tip 3: Use dedicated audio conferencing if possible. Audio is generally the most important element to web conferencing and it's preferred you use a dedicated number and call with your phone than rely on your computers built in microphone (which are often unreliable). Worst case, use some earbuds or headset that's plugged directly into your computer's audio jack.
Tip 4: Look at your camera as often as possible. The more your drift your attention from the camera, the more it appears you're detached from the conversation. Stay off social media, or anything else that could be distracting you from the conference at hand.
Tip 5: Test your shared and/or presentation docs beforehand. When there's problems with web conferencing, often it's due to shared documents, or shared screens. When doing so, always do a test run to make sure things work according to plan—this may require downsizing your presentation so it streams more effectively.
Tip 6: If there is conferencing software that needs to be installed prior to the meeting, make sure all participates know what they need to download and how, at least a few hours beforehand (or the day before.) Nobody wants to download software in a rush once the meeting has already started. That's NOT how to start a web conference.
Tip 7: Stay off public networks when web conferencing. This isn't always possible (for example, when traveling you may have no choice), but it's always preferable to participate in a web conference from a private network to safeguard your information.
Tip 8: Record your meeting. Most web conferences programs have this feature built-in and it helps everyone in case they need to relive a certain part of the meeting. This is especially true for web conference tutorials or for those unable to attend the meeting in the first place.
Tip 9: Mute your phone when you're not speaking. Nobody wants to hear background noises or loud keystroking.
Top 10: Keep the conversation friendly and encourage participation. Web conferencing can be intimidating for some people, but if you keep it relaxed, you'll more likely garner better participation from everyone involved.
Bonus: At Zyxel, we offer business-class ethernet switches (like the GS1920 Series) that can automatically prioritize your network traffic to optimize your video conferencing, and also put it into it's own virtual network to mitigate normal business traffic from interfering and affecting the video quality. Additionally, a business class firewall (like Zyxel's VPN or USG series) can further prioritize this traffic out to the internet to ensure the best possible quality. Click HERE to learn more.