Helpful Tips for a Successful Video Conference
As more and more workplaces shift to a work-from-home model, employees are maintaining connections with their team members by using video conferencing. Meetings are moving entirely online. In the modern business world, especially with stay-at-home orders, video conferencing has seen an enormous surge in popularity. According to owllabs.com, 80% of executives say video conferencing is the preferred form of internal team communication rather than audio conferencing. Some analysts foresee 50% of the workforce will work remotely by 2020. That is why being on top of your video conferencing game is important.
For the new remote workers, it may take some getting used to. Shawn Rogers, Zyxel Networks Market Development Manager has been hosting video conferencing for more than a decade shares his thoughts, "Remember that it is just as important to make a good impression when working from home as you would having the meeting in person. It is easy when working from home to get complacent about appearance and business norms, so plan ahead to dress in business appropriate clothing, and make sure you've found an area of your home where you can have the conference free from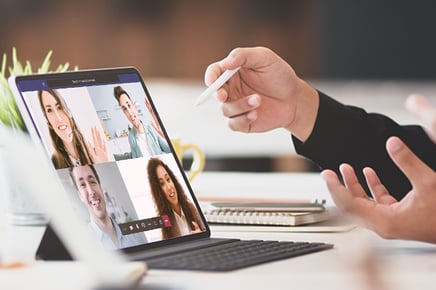 interruptions or distractions from family members, pets, etc."

Here is a list of some do's and don'ts to make your video conferencing a success:
1. Strong internet connection
Before anything else, check your internet connection. There is nothing frustrating when you cannot join the meeting or when your internet does not work and keeps on buffering. One suggestion is having Zyxel's WiFi 6 Access Points:
WAX650S is equipped with Zyxel Smart Antenna that continually monitors and adapts every connection to every device, ensuring the optimum performance is always delivered.
WAX510D is not only efficient at delivering impressive high speeds with smooth and consistent delivery to wireless clients, but also, it is efficient on power.
NWA110AX is built with premium power amplifiers and 4G/5G interface filters to deliver superior quality of service that make it one of the best in its class.

2. Pick a good spot
Pick a spot that has ample lighting. One of the objectives why you are having a video conference is to show your face to your colleagues. Note that natural lighting and side lighting work best. If there's not much natural light, overhead lights will work well, too. Once you pick a spot, make sure it is tidy and your wall is work-appropriate. Also, pick a space that is private. If you have roommates or family members that are also working from home, and kids are home, let them know that you will be on a conference call, so they will not interrupt you. Better yet, put a big sign on your door that you are on a conference call. If you have pets, you may put them in the room or keep them away.
3. Be presentable
One of the perks of working from home is getting to wear your comfortable clothes such as pajamas, sweats, etc. When joining or hosting a video conference, dress how you would for an in-person meeting, and make sure to follow your workplace's dress code.

4. Test the video/audio
Most video conferencing platforms offers "Test your video and audio" feature. Be sure to test it first. If you have panelist and you are in the meeting early, ask the panelist if they can hear/see you.
5. Close other apps
Before starting your video conference, check if you have a lot of windows open. Too many apps can slow down the CPU power. If you accidentally click on one of the windows this will disrupt your presentation. If you are an attendee, you might lose your connection, then you must sign in again which is inconvenient.
6. Check your cue
If you are not speaking, mute your microphone. Your microphone is sound sensitive and can pick up background noise. If you are responding to the topic, find the right time to speak (wait for a few moments of silence in case there is a sound delay). Use your own judgement to pick a good time to speak. Or better yet, if you are the organizer, call the name of the person. If you are an attendee, you may raise your hand or use the chat field.
7. Set the camera correctly
Always remember looking into the camera lens is like looking into the person's eyes. If you are looking somewhere else, it does not look professional.
8. Stay focused
Whether you are an attendee or the host, always pay attention. Do not check emails or do something else during video conferences. Participants will notice that you are not paying attention and you also look rude. Focus like you are physically onsite and meeting face to face with your colleagues.
9. Be on Time
As with any other events, being on time always feels good. With video conferencing, it is essentially important that you are there before the suggested time, so you have a chance to test technology. Being late distracts and delays the meeting. If for some reason you know you will be late, contact a colleague and tell him/her to pass the words to participants that you will be a little late.