No Tech Support Needed with Zyxel's New and Cost-Effective Switch, GS1915 series
Let's face it, who likes delays and even laborious communication with tech support? The GS1915 is designed for non-IT teams to make the deployment effortless and easy management for prosumers and SMBs. Even better, it is a compact, cost-effective cloud-based switch with maximum performance that includes two 8-port switches, with or without PoE options.

Tri Nguyen, Market Development Manager at Zyxel Networks explained, "Our GS1915 series switches deliver a critical balance of performance, affordability, and flexibility that makes them ideal solutions for expanding or upgrading existing networks."

No extra cost, no hidden fees
Nebula enables streamlined installation and management of the network without the additional costs of a software or hardware controller.

Complimentary Nebula cloud management
The GS1915 series features complimentary Nebula cloud management via an intuitive web interface or the Nebula mobile App. The Nebula App provides an easy way to onboard new devices to the platform, check the network status, remotely control the network, and block unauthorized clients anywhere, anytime. MSPs can upgrade to Nebula Pro for more advanced management and long-term logging.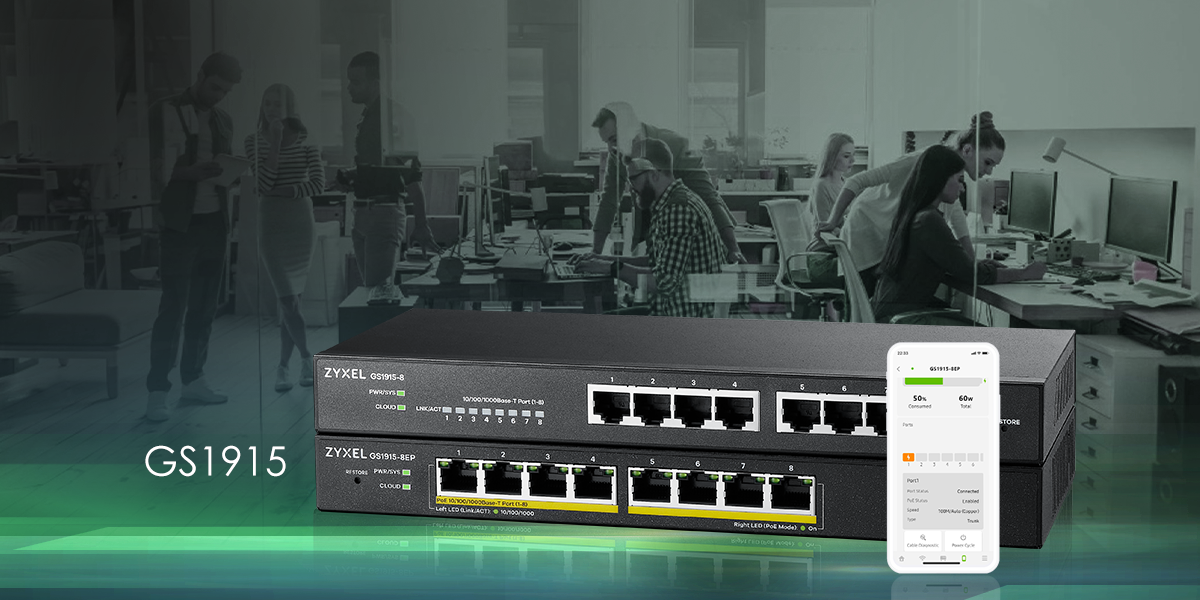 Power to more devices
With a total power budget of 60W and the ability to deliver up to 30W to each port, GS1915-8EP features a default PoE consumption mode that delivers only the actual power required by connected devices. This intelligent distribution of power enables the switch to optimize its power budget to deliver power to more devices.

Reliable, high-speed connectivity
Eight gigabit Ethernet ports provide 16Gbps switching capacity to ensure reliable, high-speed connectivity for critical applications such as video conferencing, VoIP, and IoT devices in homes, small businesses, and chain stores.

From network installation to management, users will experience sturdy network performance without support tickets.
Learn more about GS1915 Series here.
Check our press release here.