Employee Spotlight: Olga Diaz, Channel Sales Coordinator at Zyxel
At Zyxel, our employees are the most important asset of our company. Every employee is behind the success of Zyxel Networks. This quarter we are showcasing Olga Diaz who's been with Zyxel for 15 years. Find out the funny story of how she started with the company, and how has Zyxel helped her with her career development and her passion outside of work.

Q: How did you first learn about Zyxel and what made you apply for the company?
Olga: This is a funny story. The company I was working for ended up relocating to Santa Barbara, so I ended up unemployed. I registered for an employment agency. Luckily, I got a call from them, and asked me if I want to cover for someone who was on vacation but only for a couple of weeks in shipping and receiving. It was a big surprise for me on my first day. I saw my brother Gabriel and didn't know he worked here. After two weeks, Tino, (now the Director of Operation) talked to Jennifer Mackey (now the Key Accounts Sales Director) and she hired me for the sales department.


Q: What makes you stay with the company? For me having a family-friendly work culture.
Olga: Over the years, I have heard from our CEO Howie Chu and Senior VP Brian Feng, "If you have a family emergency, please go to your family. They should always come first."
Q: What does your job entail?
Olga: My main job is to work with distributors - from monitoring discontinue products to assisting sales orders.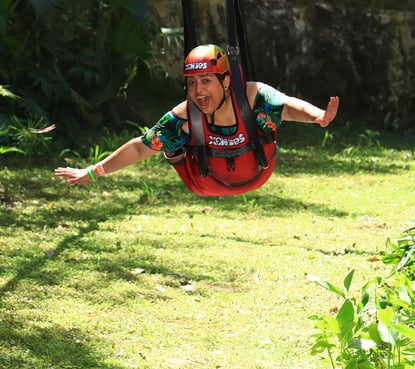 Q: What's your favorite part of working at Zyxel? The whole team.
Olga: Everyone is always ready to help, and I've made very good friends here.

Q: What motivates you to wake up and go to work?
Olga: My main motivation is proving that I am trustworthy with the job I do. Every time a distributor, reseller, or end-user comes to me with a request for their business, they find me helpful in an effective and timely manner.
Q: How has Zyxel helped you in your career development?
Olga: The job doesn't consume your entire life. Zyxel leaves me time for my other passion and which is helping many non-profit organizations.

Q: Tell us something most people would be surprised to learn about you?
Olga: I direct a non-profit organization and am in charge of feeding the homeless.
Q: What is the one thing you can't live without?
Olga: My family, I have a big crazy family.

Q: What is your favorite quote?
Olga: Darkness cannot drive out darkness, only light can do that.