Employee Spotlight: Gabriel Diaz, Warehouse Supervisor at Zyxel
A successful company would not be functioning if it did not have motivated and loyal employees. At Zyxel, we hire the cream of the crop and want to share some of what makes our employees who they are. For the first employee spotlight of 2022, we are going to shine the light on effervescent Gabriel Diaz. Gabriel is the warehouse supervisor at Zyxel and has been with the company for 24 years. In this Q & A, find out how Gabriel first learned about Zyxel, how Zyxel helped him in his career, and what is that one thing he can't live without?
Q: How did you first learn about Zyxel and what made you apply for the company?
Gabriel: I was sent by a temp agency to work as a temporary shipping person, and I just stayed in the company.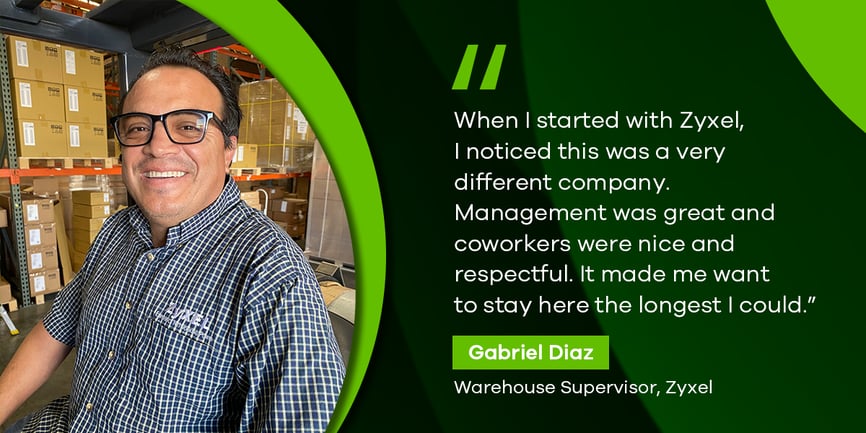 Q: What makes you stay with the company? What does your job entail?
Gabriel: When I started with Zyxel, I noticed this was a very different company. Management was great and coworkers were nice and respectful. It made me want to stay here the longest I could.
My job entails checking customers' purchase orders for accuracy, scheduling trucks for pick-ups, getting the auditing inventory count at year-end.
Q: What's your favorite part of working at Zyxel?
Gabriel: Even when it is the same kind of job we do, we have different tasks every day. That makes the day go by faster.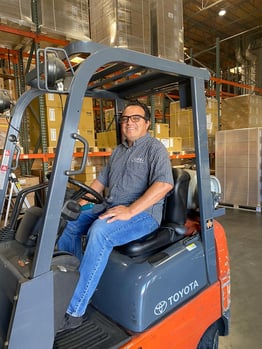 Q: What motivates you to wake up and go to work?
Gabriel: Working with a lot of good coworkers and management, makes it easy to be motivated to come and do your part.

Q: How has Zyxel helped you in your career development?
Gabriel: I started as a shipping person and now I'm in charge of the whole warehouse, including shipping, receiving, inventory, etc. That's a lot of responsibility and work, but people around here make it easier to handle.

Q: Tell us something most people would be surprised to learn about you?
Gabriel: Besides soccer, Astronomy and history are my other interests. I like to watch the stars and planets with my telescope and enjoy watching movies about planets and historical events.

Q: What is the one thing you can't live without?
Gabriel: That one thing I can't live without is playing soccer. I have played and watched soccer since I was a kid and still playing, although not as good and fast as I used to. So, I think soccer is something that will be with me till the end of life.

Q: What is your favorite quote?
Gabriel: Oh, I have a few. I like "With great power comes great responsibility" from the Spiderman movie, or "What doesn't kill you makes you stronger" from Kelly Clarkson's song.