Employee Spotlight: Marcus Holmes, Zyxel Networks' Sales Engineer
Welcome to Zyxel Networks Employee Spotlight Series. In addition to their day jobs, our team members have a wide array of hobbies, talents, and interests that make them truly unique. This month, we want you to meet Marcus Holmes. Marcus has been working for Zyxel Networks for 15 years now. He is our sales engineer. Curious about what he does and how he got started with Zyxel? Let's learn more about him.
Q: What drew you to Zyxel Networks originally, and how has it changed since?
Marcus: I used to help fix computers for family and friends and after I got my degree I looked around at the industry and knew that there was always going to be a need for IT helpdesk support. I looked around and chose Zyxel because of its large product portfolio. Since working at Zyxel, I've watched the company expand its product line to new and exciting networking solutions.

Q: How long have you've been with Zyxel Networks?
Marcus: I started working for Zyxel back in 2006 as a Technical Support.

Q: What does your job entail?
Marcus: I provide pre/post-sales support by helping customers choose the right networking product for their applications. I also provide guidance on network topology layout based on their environment and answer any questions that may arise during or after the initial install. Additionally, I conduct technical overviews of our products with new customers that are being onboarded so that they have a deep understanding on how to use our products to best fit their needs.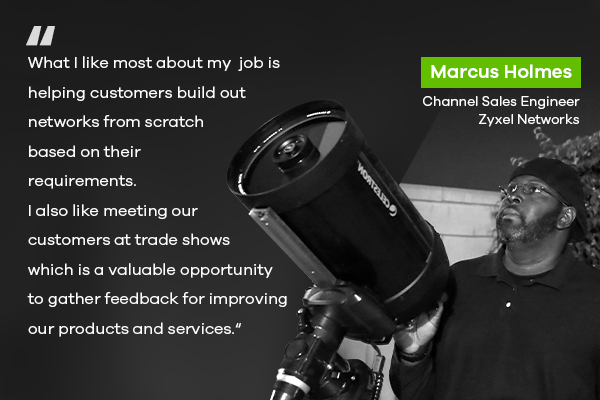 Q: What do you like most about your job?
Marcus: What I like most about my job is helping customers build out networks from scratch based on their requirements. I also like meeting our customers at trade shows which is a valuable opportunity to gather feedback for improving our products and services.

Q: What has been your favorite project so far?
Marcus: My favorite project was designing a wireless solution for a large outdoor mall where the client wanted to supply WiFi throughout the whole property for up to 2000 users. The biggest challenge was that there were certain stores that did not allow outdoor AP's (Access Points) to be installed on, so I had to find ways to work around this limitation and was able to satisfy the clients requirements.

Q: What is the best career lesson you've learned so far? How has your career grown since starting with the company?
Marcus: My best career lesson is you should learn new skills and expand knowledge instead of relying on one skill to be good at. When I started working at Zyxel, I primarily did support calls for our residential gateways, but I didn't want to be stuck answering and resolving support cases linked only to that product. I was able to get training on other product categories such as firewalls and switches which allowed me to resolve more difficult support cases. The technical knowledge that I gained for the different product lines helped me grow within the company, giving me the opportunity to move to the position of Sales Engineer.

Q: What's something most people don't know about you?
Marcus: One of my biggest hobbies is Astrophotography. I got started with the hobby almost a decade ago when I purchased my 8-inch Schmidt-Cassegrain Telescope. Since then, I have imaged the Moon, Jupiter, and Saturn during special events such as the Venus Transit of 2012 and the 2017 Solar Eclipse.

Q: What's your mantra?
Marcus: Don't focus on what you cannot do, focus on what you can do.