Zyxel's Networked AV Provides VARs and Channel Partners in the Professional AV Industry with Greater Scalability and Efficiency
More and more AV systems are transforming from the traditional matrix switch infrastructure to industry standard IP-based technology to address the ever-growing diversity of AV-over-IP applications. This transition offers the potential for longer distance, less cabling, and easier installation thanks to IP-based technology.
This new offering from Zyxel Networks provides VARs (Value-Added Resellers), MSP (Managed Service Provider), system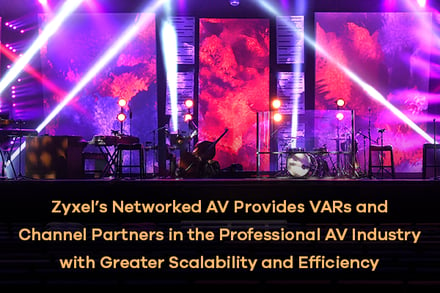 integrators and channel partners in the professional audio video (AV) industry with greater scalability and efficiency.
However, many businesses still find the path challenging due to a lack of familiarity with switch network settings.
Challenges of AV over IP
Traditional AV channels focuses more on AV systems and are usually less familiar with IP networking.
Improper network setting degrades streaming performance as well as user experience.
Pro-AV vendors tend to be limited to use only "Certified Networking Products" to maintain their familiarity with network setup. This slows down their flexibility to adopt to more cost- effective network solutions.
Zyxel Networks have been working with our technology partners to provide a better AV-over-IP solution to the market:
Multicast load sharing
Multicast load sharing over trunk port can evenly distribute traffic over multiple ports for better system performance.
Better utilization for inter-switch port bandwidth
Although IGMP standard recommends sending all the channel information to querier port, this behavior will increase unnecessary traffic across two switches.
Asymmetric Flow Control
Switch will not proactively send out pause-frame when traffic reaches its upper threshold. It will only take action when either transceiver or receiver sends out the pause frame request to the system.

A Partnership with a leader on of AV/IT connectivity
Zyxel Networks has partnered with the leader in the AV industry: ATEN, a leader of AV/IT connectivity and management solutions. The partnership between the two leading brands ensures smooth integration of network system design and delivers an interoperable and reliable total AV-over-IP solution.
Tri Nguyen, Zyxel Networks' Market Development Manager said, "The custom networked AV mode incorporated into our switch portfolio eliminates the configuration challenges to provide an easy-to-use, stable network solution that is ideal for use in classrooms, sports bars and control center video wall displays."
Find out more about the Zyxel Networked AV mode at https://www.zyxel.com/us/en/solutions/Networked-AV-Solution-20200821-989148.shtml
You may also view the webinar "What is Zyxel doing in the Network AV Space" below.