Zyxel to debut an LTE-A Outdoor Router at CES 2019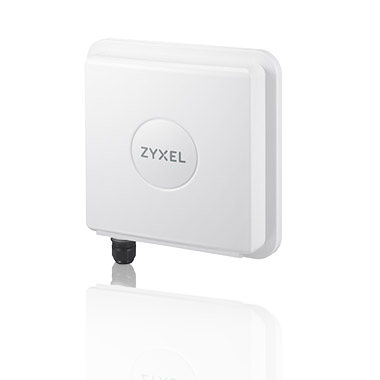 Zyxel will debut an LTE-A outdoor router that utilizes the CBRS band to deliver high-speed broadband to remote areas using LTE technology at CES 2019.
The Zyxel LTE7480 LTE-A Pro Outdoor Router enables network operators to cost-effectively provide high-speed connectivity to customers over last mile access. Service providers interested in meeting with Zyxel at CES 2019 to learn more about the new product can register HERE.
Ideal for use in suburban areas, public locations, homes and offices, the new routers utilize the 3.5 GHz CBRS spectrum band, often referred to as the "innovation band." The LTE7480 leverages MIMO technology to enable service providers to deliver faster download speeds, greater network capacity and enhanced connectivity to subscribers in remote areas where other technologies would be cost-prohibitive.
Features and Benefits of the Zyxel LTE-A Outdoor Router:
Lightning-Fast Internet Connectivity:

LTE7480 employs 3GPP UE category 16 with downlink data rates of up to 573 Mbps through eight spatial streams on two carrier components.
High-Gain Antennas:

LTE7480

features a 4x4 MIMO, high-gain 10 dbi antenna; outdoor design enables the LTE7480 to work under near non-line-of-sight conditions to increase coverage and bandwidth.
Easy to Deploy and Manage:

The LTE7480 supports bridge and router functions for flexible deployment; 802.3at PoE eliminates need for separate power source; IP66 hardened industrial grade enclosures for mounting in harsh environments; TR-069 and remote GUI management; remote throughput testing capability.
Non-Stop Connectivity:

Wireless LTE provides multi-WAN fail-over without a cabling plan. As long as the gateway supports multi-WAN fail-over, simply connect the LTE7480 to the existing gateway and set the LTE as the fail-over WAN.
"The use of CBRS gives network operators the option of delivering broadband over the existing LTE mobile networks, enabling them to provide service to untapped markets and rapidly increase their revenue," said Brian Feng, Senior Vice President at Zyxel. "The LTE7480 brings all the potential of CBRS technology in a feature-rich, high-performance package for service providers looking to offer innovative services like last-mile high-speed access, private LAN services for enterprises, or connectivity for large indoor venues such as stadiums and smart factories."
Zyxel's line of Fixed Wireless Access (FWA) products includes the new LTE7461 4G LTE-A Outdoor Router. The LTE7461, which can function in bridge or router modes, employs 3GPP UE category 16 – the best-practice LTE technology – to provide downlink data rates of up to 400 Mbps through four spatial streams using 2x2 MIMO, high-gain 8 dbi antennas. Designed for deployment in harsh outdoor environments, the LTE7461 is housed in an IP66 hardened industrial-grade enclosure. 802.3at PoE support ensures ease and flexibility of deployment, and the LTE7461 is easily managed using TR-069 and remote GUI.