Zyxel helps bring Battleship Iowa into Digital Era with Fast, Reliable and Remotely Managed Network
Battleship USS Iowa Museum located in San Pedro, CA is an award-winning naval history museum. They also offer programs that help veterans, stem-based education opportunities for the youth, and first responder training for adults. With all this to offer, the battleship had its challenges installing a modern computer network. Because they are in the port of Los Angeles - on the exterior surrounding areas, there's a tremendous amount of radio saturation across all of the frequency bands. In the interior, there is a thick armored steel structure and concrete wall that can block WiFi signals. The historic battleship needs to deploy wireless remotely managed network that is fast, reliable, and secured and can go through the thick steel and concrete walls.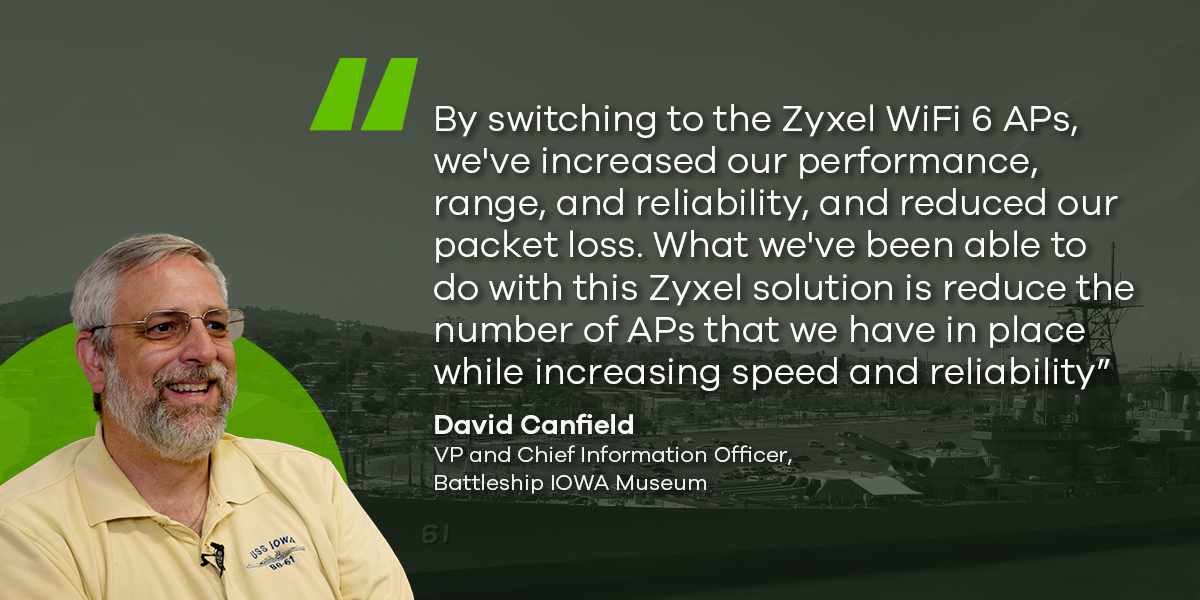 Recognizing not only the difficulties to run a wireless network into a vintage ship through armored bulkheads but also the ability to provide secure connectivity among many members of the executive and technical staff were also the other challenges they faced. According to David Canfield, VP and Chief Information Officer for Battleship IOWA Museum, "It is difficult to drop a modern network into an older ship. This is a steel box, so wireless is challenging. It is probably the most challenging network environment you will ever encounter. Canfield added "We were putting a single AP in every single space we had on the ship where we required WiFi access. It got to the point where I was telling our users not to trust the WiFi. If they were not plugged in, they were not going to have a decent network connection. "Our prior solution had what it called remote management, but you had to get onto the VPN and get to that management controller before we could talk to any of our wireless devices," he said.

Battleship Iowa uses the following Zyxel products to address their issues: Zyxel WAX650S 802.11ax (WiFi 6) Dual-Radio Unified Pro Access Points, XS1930-12HP 8-Port Multi-Gigabit Smart Managed PoE Switch with 2 10GbE and 2 SFP+ Uplink Ports, and USG FLEX 700 Firewall.

The Zyxel WAX650S features Smart Antenna technology which continually monitors and optimizes the connection with every client device to maximize performance and reliability even in challenging environments. According to Troy Vail, Innovation and Technology Manager at Battleship Iowa "I was able to get excellent speeds in areas that are separated by two to three inches of thick steel. Providing secure remote access to the network was easily solved using Zyxel's Secure WiFi Service, Vail said. And according to Canfield, setting up the secure connection from the remote office to their internal file system does not require putting a person on site. "I have a very secure environment that I can trust. The ability to simply pre-program that device, send it to the remote office, and have them plugin and connect with no other interaction is really amazing," remarked Canfield.


Learn more about Battleship Iowa's success story here.