2020: The Year in Review at Zyxel Networks
The pandemic outbreak made 2020 a year like no other. Businesses around the world faced economic challenges. But despite these challenges, Zyxel Networks was fortunate to launch new products, released a major redesign, new partnerships, and recognitions.
Here is a recap of what we have accomplished:
1. Major redesign of the Nebula Cloud networking solution
The newly redesigned Nebula Cloud Networking Solution enhances user interface which includes the addition of new intelligent management tools and expansion of the comprehensive Nebula family of access points and switches. These additions make it easier for SMBs and MSPs to maximize the potential of their Nebula cloud networks. Find out more here.
2. Zyxel launches All-in-One VPN solutions, ZyWALL VPN1000 VPN firewall
ZyWALL VPN1000 VPN Firewall is an integrated security solution that combines a powerful firewall with high-performance VPN tunnel capabilities to protect the local network against threats and safeguard data communications between multiple locations or hybrid clouds. The all-in-one security solution for small and medium businesses provides robust security and central management to connect and protect the cross-group network. Find out more here.
3. Zyxel Networks was recognized in the 2020 CRN® Partner Program Guide
In April of 2020, the 2020 CRN® Partner Program Guide recognized Zyxel Networks for providing products and services through the IT channel. Based on that assessment, Zyxel Authorized Partner Program (ZAP!) stands among the top technology suppliers in the IT channel, providing excellent value and support for solution providers. Find out more here.
4. Zyxel Networks partners with McAfee
Zyxel Networks partnered with McAfee to offer customers an integrated, one-box security solution designed specifically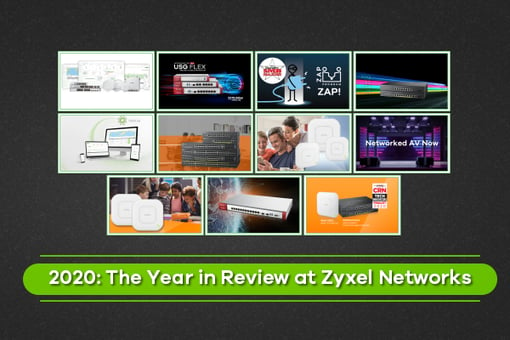 for small- to medium-sized businesses. The integration of McAfee's anti-malware solution into Zyxel's high-end ATP firewall family will provide SMBs with best-of-breed malware detection, security performance, and advanced web filtering within a single firewall device. Find out more here.
5. The launch of the XS1930 series multi-gigabit smart managed switches
The launch of Zyxel's XS1930 switches (XS1930-10 and XS1930-12HP) provide affordable, easy-to-manage solutions for upgrading the network infrastructure to provide the multi-Gigabit performance required to take full advantage of the latest WiFi 6 technology. These new switches are feature-rich, high-performance multi-gigabit switches that support variable speeds to address the data speed requirements of the various applications and devices used throughout the office. Find out more here.

6. Zyxel introduces USG Series, a new range of firewalls for teleworkers
Zyxel's new USG FLEX 100, USG FLEX 200 and USG FLEX 500 firewalls are designed for small- and medium-sized businesses to keep up with the workplace mobility, connectivity, and security requirements for current and new teleworkers. Find out more here.
7. Release of the latest update to its Nebula Cloud Networking Solution
The upgrade of Nebula Cloud Networking Solution which is available now as a free firmware release for Zyxel Nebula managed access points, switches, and security gateways, incorporates key features that enhance WiFi security and enable vertical partners to incorporate the delivery of new value-add services. The new update opens the Nebula API to make it easier for technology partners to integrate their systems with Nebula. Managed Service Providers (MSPs) and system integrators are now able to incorporate their own services such as WiFi onboarding systems which can be combined with DPPSK technology to improve network access for guests and employees while strengthening network security protocols. Find out more here.
8. Launch of High-Performance Gigabit Ethernet Layer Two Managed Switches
The launch of a series of high-performance hybrid layer 2 switches can be managed via the cloud, via Web (GUI) or command line interface (CLI), or Simple Network Management Protocol (SNMP). The new Zyxel GS2220 series of 10-, 28- and 50-port Gigabit Ethernet switches deliver an unprecedented combination of performance and management flexibility to meet the challenging and constantly changing network infrastructure requirements. All Zyxel GS2220 Series switches come with a one-year free Nebula Pro license and carry a limited lifetime warranty and are available now through all Zyxel authorized resellers and e-Commerce partners. Find out more here.
9. Zyxel launches three WiFi 6 Access Points with remote provisioning
Three New 802.11ax Access Points offer WiFi 6 performance along with remote provisioning using Zyxel Nebula Cloud Management. Providing up to six times the throughput as 11ac access points in high-density environments, Zyxel's new access points provide consistent connections, low latency and less jitter to maximize network performance for existing client devices. Find out more here.
10. Zyxel partners with professional audio and video solution provider ATEN
Zyxel Networks has partnered with the leader in the AV industry, ATEN to introduce its new Networked AV element in switches, which boosts simplicity and efficiency for network partners. Drawing on its more than 30 years of professional networking expertise, Zyxel's new offering provides VARs, system integrators and channel partners in the professional audio video (AV) industry with greater scalability and efficiency. The partnership between the two leading brands ensures smooth integration of network system design and delivers an interoperable and reliable total AV-over-IP solution. Find out more here.
11. Expansion of Zyxel Networks' growing portfolio of business-class WiFi 6 access points
The addition of the new WAX610D 802.11ax Dual-Radio Unified Access Point and NWA210AX 802.11ax Dual-Radio Access Point offers users the most complete and comprehensive portfolio of WiFi 6 access points for the small and medium business market. Unlike existing WiFi 6 access points that support the WiFi 6 standard on the 5GHz band only, Zyxel's WAX610D and NWA210AX access points offer true WiFi 6 technology on both 2.4GHz and 5GHz frequencies. Find out more here.
12. Zyxel Networks named as a finalist in two categories in the 2020 CRN Tech Innovator Awards
Zyxel Networks named by CRN®, a brand of The Channel Company, as a finalist in two categories in the 2020 CRN Tech Innovator Awards. Zyxel Networks was recognized for the WAX650S 802.11ax (WiFi 6) Dual-Radio Unified Pro Access Point in the Wireless Networking category and the XS1930 Series Multi-Gigabit Smart Managed Switches in the Networking category. Find out more here.
13. Zyxel Networks expands security firewall solutions for SMB's
Zyxel expanded and strengthened its comprehensive family of security solutions for businesses with the launch of two new USG FLEX mid-range firewalls and the release of firmware ZLD 4.60. Armed with key enhancements provided by the new firmware, Zyxel security firewalls provide businesses with the power to protect against more sophisticated cyberthreats and ensure business continuity in the rapidly evolving business environment. Find out more here.