Zyxel Earns 2022 ChannelPro SMB All-Star
Every year Channel Pro Network, the media company for IT decision-makers and channel partners recognizes an elite subset for having a significant and positive impact on the SMB channel. The ChannelPro SMB All-Stars selected Zyxel Networks' MG-105 5-Port 2.5GbE Unmanaged Switch and MG-108 8-Port 2.5GbE Unmanaged Switch as products that have market-changing potential - giving SMBs an affordable way to utilize the speedy 2.5GBase-T Standard.

Zyxel's MG-105 and MG-108 unmanaged switches are accompanied by 2.5 Gigabit ports to optimize the performance of your Multi-Gig bandwidth and devices. Also, it provides 25/40 Gbps of switching capacity making it an ideal choice for LAN parties, home entertainment, SoHo, and offices.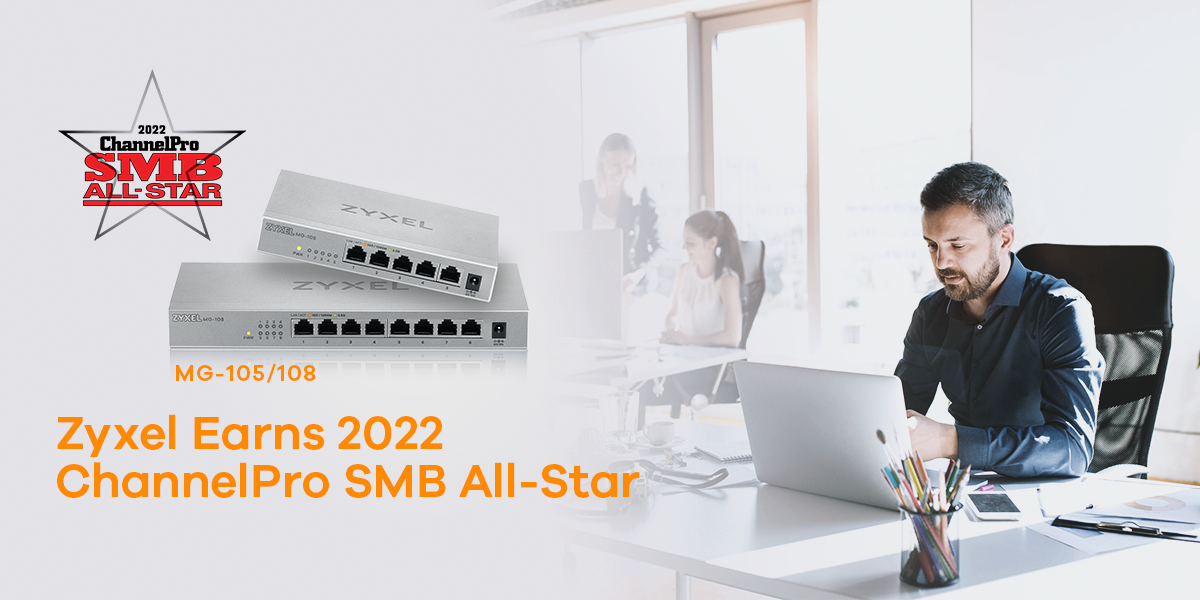 David Soares, Zyxel Networks Executive Vice President Channel Sales and Marketing explained "Our MG-105 and MG-108 switches make it easy and affordable for SMBs to migrate existing networks to multi-gigabit speeds, which is critical as bandwidth-intensive and latency-sensitive applications such as professional video conferencing are continuing to increase in usage in office, home, and hybrid work environments."

Shawn Rogers, Zyxel Networks Market Development Manager remarked, "We are honored and grateful to be selected as a 2022 ChannelPro SMB All-Star. This is a huge validation of our efforts across our company. At Zyxel, we have a legacy of developing innovative networking products. With its simplified plug-and-play technology, Zyxel MG-105 and MG-108 switches can make it easy to upgrade your network to multi-gig performance for today's high bandwidth applications."

To purchase MG-105 directly on Amazon, click here.
To purchase MG-108 directly on Amazon, click here.

For more information about MG-105/MG-108 go to https://www.zyxel.com/us/en-us/products/switch/58-port-25gbe-unmanaged-switch-mg-105mg-108