Why Access Points are Essential for your Business
Imagine you just ended a time-sensitive business meeting in the conference room and shared important notes on your laptop. You return to your desk to review your notes when suddenly you experience network interruptions. This is where an access point can save the day. Access points are not just Wireless Repeaters familiar to many and used primarily in the home.
The challenge with Wireless Repeaters, is they usually are operating on the same channel as the devices they are connecting to. So, data rates are cut in half, since first the data must be sent over WiFi to from the client to the repeater, and then rebroadcast from the repeater back to the router it is connecting to. They are also fiddly on where you place them to get good performance.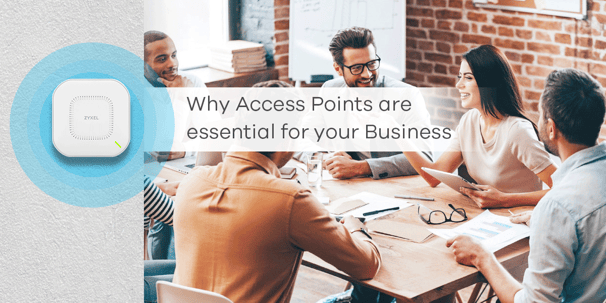 Access Points, on the other hand, increase available bandwidth and can handle multiple connections at the same time. Let us say you have more than five guests/clients coming in for a meeting, and you have your staff members connecting simultaneously with laptops/desktops, cell phones, and tablets. These multiple devices can add up quickly. By installing access points throughout the office, your guests and employees can move freely from wall to wall without dropping connections. Each guest/employee automatically connects to the strongest access point as they travel through office space. Your next question is probably "Can I install more than one access point? The answer is yes, and you can install as many as you want to meet your use case.
What type of Access Point should you purchase?
Zyxel Networks has different models that will fit your needs. Zyxel access points are built with selected high-quality components to warrant the best experience and longevity. In addition, Zyxel AP's enable businesses of all sizes to upgrade existing network infrastructures to the high performance and quality of WiFi 6 technology.
Shawn Rogers, Market Development Manager at Zyxel Networks explained, "When a business makes the decision to upgrade to a WiFi 6 infrastructure, it is important that they deploy APs that deliver the performance and efficiency advantages on both 2.4GHz and 5GHz bands. Our comprehensive portfolio of business-class WiFi 6 access points provides an array of product to meet the specific needs of the SMB market."

Here are the models that you should consider when purchasing your access point:
For homes or small offices
NWA110AX - The NWA110AX boasts an impressive quad-core processor to provide consistently smooth delivery to wireless clients. It is also built with premium power amplifiers and 4G/5G interface filters to deliver superior quality of service that make it one of the best in its class. Find out more here.
NWA210AX - The NWA210AX is designed to deliver the true WiFi 6 experience to users for various types of applications. Featuring 6 spatial streams (4x4:4 in 5GHz, 2x2:2 in 2.4GHz), OFDMA and MU-MIMO capabilities, the NWA210AX can provide fabulous efficiency for your wireless networking. Find out more here.
Proper business solutions due to their ability to be managed by Zyxel's USG/ATP series and the inclusion of one year of Nebula Pro
WAX510D - The WAX510D is truly the next generation of wireless (WiFi 6) AP, especially for businesses looking to strike the right balance between performance and budget. It is equipped with a dual-optimized antenna that is selectable, allowing the access point to be mounted on the wall or on the ceiling without compromising on performance and coverage. Find out more here.
WAX610D - The WAX610D enhances the network capacity with 2.90 Gbps WiFi speed and 2.5 Gbps multi-gigabit Ethernet port, which allows multi-gigabit speed run on the existing infrastructure without the need of re-cabling. Find out more here.
WAX650S - The WAX650S is also equipped with Zyxel Smart Antenna that continually monitors and adapts every connection to every device, ensuring the optimum performance is delivered at all times. It prevents the connection inconsistencies and delays caused by interferences. Find out more here
Check our webinar below about Zyxel Networks six Access Points