What's Using Up Your Broadband Data?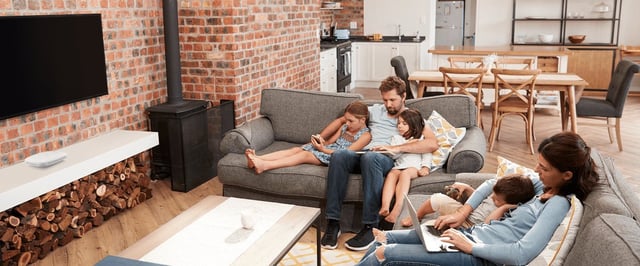 When people talk about data plans, in most case they're referring to their cellular data plans, and how to avoid going over the maximum data allotments. But what you may not realize is, you probably have some sort of limit or cap on your home broadband as well.
Most households don't go over their monthly broadband limits (many don't even know they have one), but there are some of you who rely on your home internet connection more than the average household does. If you're among this group, it's likely you have several computers, mobile phones, tablets, smart devices, etc., all sharing the same connection. Question is, what's burning the most data during a given month?
The top data consumer is an obvious one: streaming video content. More specifically, HD or 4K video content, which on average can soak up 4GB of data usage for a 2-hour movie. To those of you who have cut the cord from cable and opt for streaming entertainment choices, this can add up quickly, and in some cases push you over your current broadband limit if you're not careful (broadband limits vary, with 1TB per month being a common plateau.) Other top data users include sites such as YouTube, online gaming, music streaming and so on.
If you own a business and find your company is maxing out it's monthly data, again, look towards video streaming and/or video conferencing as a likely culprit for using up a big chunk of your monthly broadband data.
Other ways you can reduce your monthly broadband data would include using cell data on your mobile phones instead of home Wi-Fi (only if you have an unlimited cell data plan, of course), downloading music and videos instead of streaming them, switching to browsers that consume less data (Google Chrome is a good choice) and perhaps most importantly (and quite easy), making sure you turn off your streaming devices after you use them. This is particularly true with devices that you use to stream content to your TV, like a Roku, Chromecast or Apple TV. Just because you turn the TV off, the device could still be streaming data even though you're no longer watching anything.
Try those tips next time you find yourself creeping close to your monthly broadband data limits. And call your ISP if you aren't sure if or what your limit is in the first place.