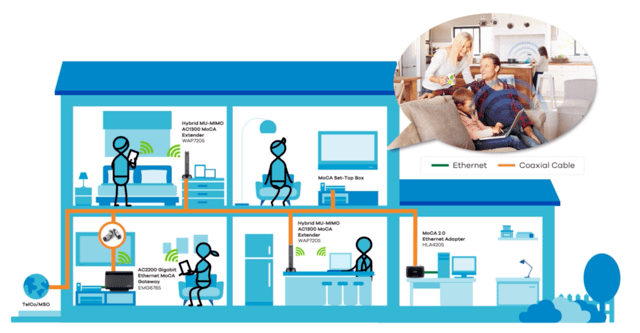 Most homes today have coax wire running throughout the house. It's what you hook up to your TV to get cable and often it's run to every bedroom or living area where a TV may be found (it's also cheap and easy to install.)
What if we told you there was more you could do with coax?
Zyxel's new line of Multimedia over Coax Alliance (MoCA) 2.0 bonding solutions are designed to transform a household's existing coax wiring to extend home networking further and more reliably with MoCA technology. Also, Zyxel's MoCA 2.0 bonded solutions open up new opportunities for extending high speed networking with gigabit performance for IPTV, media streaming, gaming consoles, and home networking applications.
Setting up MoCA in your house is easy, too. Here's what you'll need:
1. Coax wiring
2. An AC2200 Gigabit Ethernet MoCA Gateway: This works as a wired backbone for reliable WiFi extensions and optimizes the power of home networks and ensures its coverage reaches every corner in the house.
More Options:
1. A Zyxel WAP7205 MoCA Extender, (or more than one if needed.) This extender is capable of concurrent data transfer rates of 400 Mbps* for 2.4 GHz and 867 Mbps* for 5 GHz for users to enjoy high-speed Internet via the existing reliable wires as well as to diminish dead zones effortlessly.
2. A Zyxel HLA4205 MoCA 2.0 Ethernet Adapter, which is a coax home network adapter that turns the home coax cable into a 1.4 Gbps network backbone for every family member to experience high-speed network connectivity.