WAX640S-6E Access Point, the Right Choice for High-Density Environments and Emerging Technologies
As WiFi continues to become ubiquitous, there is a demand for increased bandwidth. High-density environments such as schools, shopping malls, hotels, airports, cafes, and bars, convention centers need to accommodate a large number of devices that can offer better services for everyone, every time they connect to WiFi.

The Zyxel WAX640S-6E is the tri-band Access Point (AXE7800 class), fully equipped with the next-gen WiFi 6E technology for ultra-fast speeds and low-latency connections. It empowers users to take advantage of the new 6GHz band with more available bandwidth than 2.4 GHz and 5 GHz combined. WAX640S-6E reduces WiFi overcrowding, and congestion and increases user experience. For emerging technologies such as VR/AR, 8K video streaming, or online gaming the WAX640S-6E offers ultra-fast speeds without latency.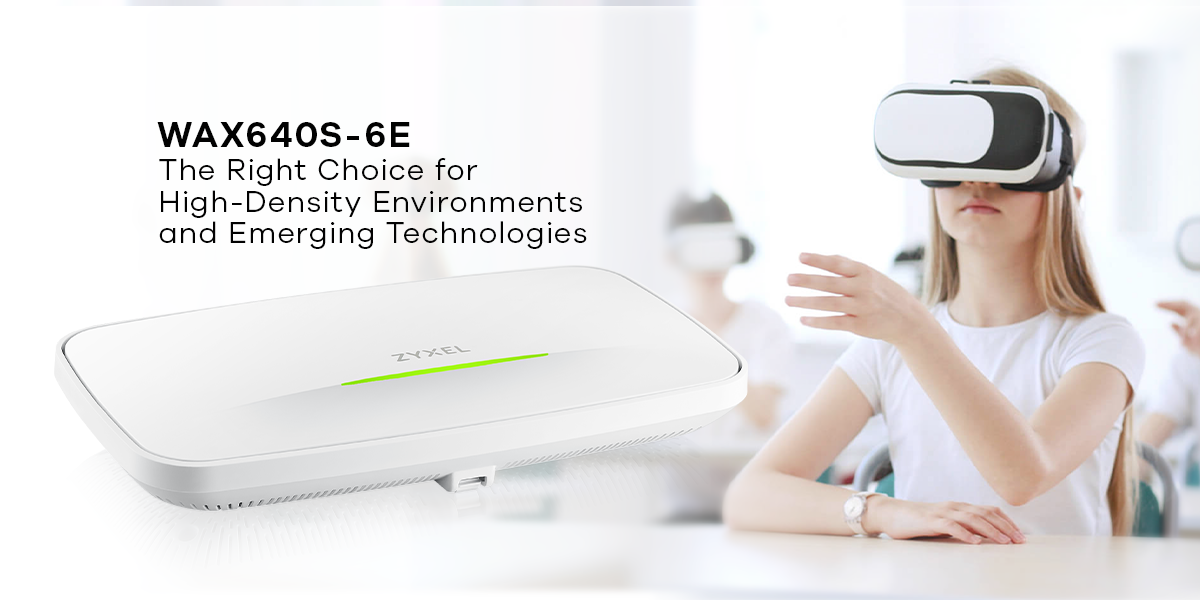 Shawn Rogers, Market Development Manager at Zyxel Networks explained, "Performance and connectivity issues caused by interference and congestion has long been an issue with WiFi networks, and is particularly problematic in high-density environments, and when using latency-sensitive applications such as VR/AR, 8K video streaming, and online gaming. Our family of WiFi 6E access points enables businesses to greatly reduce network interference by using the new 6GHz WiFi spectrum. Zyxel's WiFi 6E products deliver extended range and flexibility of management, to provide a cost-effective solution for upgrading existing WiFi infrastructures to provide reliable, multi-gigabit, low-latency connectivity for critical applications."

Why WAX640S-6E is beneficial for high-density environments and emerging technologies?
The use of the 6Ghz spectrum opens up a massive amount of spectrum allowing for full-speed operation in dense environments without worries of co-channel interference.

Tri-band operation allows 6GHz client devices to take advantage of the interference-free 6GHz while still offering support for legacy 2.4GHz and 5GHz clients.

Includes a smart antenna that continuously monitors the connection and adaptively adjusts its antenna patterns to mitigate co-channel interference and boost WiFi performance.

Comes with a one-year Nebula Pro Pack license and supports standalone, controller, and Nebula cloud-based management, providing full flexibility of management in any network environment.

Minimizes interferences from 4G/5G cellular networks with Advanced Cellular Coexistence
WAX640S-6E Access Point is truly the best choice for a multitude of users and devices that can be connected without any degradation in performance or response time.

For more information, visit the WAX640S-6E Access Point page on our website.