Transform your Power Outlet into a Supersonic Network
We have all had a poor internet experience from time to time. Imagine you are in the cliffhanger of a hit movie on Netflix and suddenly your screen starts buffering. Or how many times have we heard our family members gaming online and unexpectedly losing out because of lagging internet. Such frustrations are common. We have a solution that will help end that. Zyxel Networks' powerline adapter PLA6456 transforms the way users network their homes with the new G.hn technology!
What is powerline adapter?
A powerline adapter turns your existing electrical wiring into a wired-like network. Get connected to a stable Internet where there is a power outlet.

What is G.hn technology?
With so much demand for speedy internet, G.hn technology is becoming the best in-home electrical network connection. Zyxel PLA6456 with G.hn technology delivers maximum data transfer rate and stability for your home networking. G.hn technology is perfect for 8K streaming and provides a lag-free online gaming experience.

PLA6456
PLA6456 is a powerline adapter that turns your existing electrical wiring into a wired-like network. PLA6456 delivers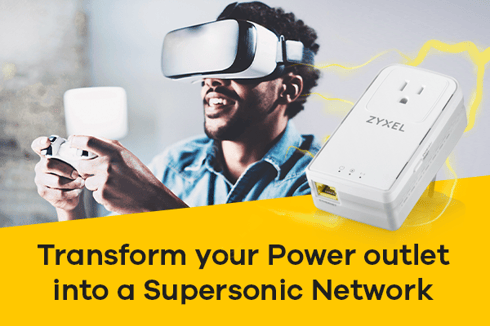 superb performance and low latency for your home streaming entertainment system. In addition, it provides plenty of bandwidth for 8K video streams and fast connection for lag-free online gaming sessions. By transporting network data over the electrical wiring, PLA6456 solves WiFi issues caused by concrete walls, multiple stories, and dense RF environments.

How do you use it?
Connect one powerline adapter to your Internet sharing router/gateway and connect another powerline adapter to a device that needs Internet connection in another room. And voila, you got yourself a fast and secured Internet connection to your device!

How do you set it up?
It is as easy as 1-2-3. Plug in two PLA6456 to any electrical outlets in your home and then instantly gain a network connection without having to run physical wires. Push the sync button on both PLA6456 to get an AES 128-bit encrypted network going through your electrical outlets.

Aside from providing a maximum speed, the good news is PLA6456 automatically goes into standby mode to reduce the Powerline adapter's power usage when the device is not in use. In other words, you save on your electric bill reducing up to 90% of power consumption while in standby mode.
Shawn Rogers, Market Development Manager at Zyxel Network explained, "Our new G.hn Wave 2 powerline solution delivers reliable, fast connectivity using existing power outlets which makes it an attractive alternative to running Ethernet cabling. It is also an ideal solution for providing high-speed network connectivity in areas where using WiFi is difficult or problematic."
Liron Segev, known as "The Techie Guy", a tech influencer/blogger ran three tests over three days. The first test was connecting to a regular WiFi, the second test was connecting to the extender and the third test as connecting to the Zyxel Powerline Adapter. Liron was pleased with the result. He remarked, "PLA6456 outperformed the WiFi and the extender across all 3 days giving me speed equivalent to land cable connection just without the headaches having to run the wires. The Zyxel adopter is simple, easy to use, plug and play solution that really does work as it says in the box."
Save yourself the trouble of rewiring your home with Ethernet cabling. For more info about PLA6456 G.hn Wave 2 Powerline Pass-Thru Gigabit Ethernet Adapter, click here.