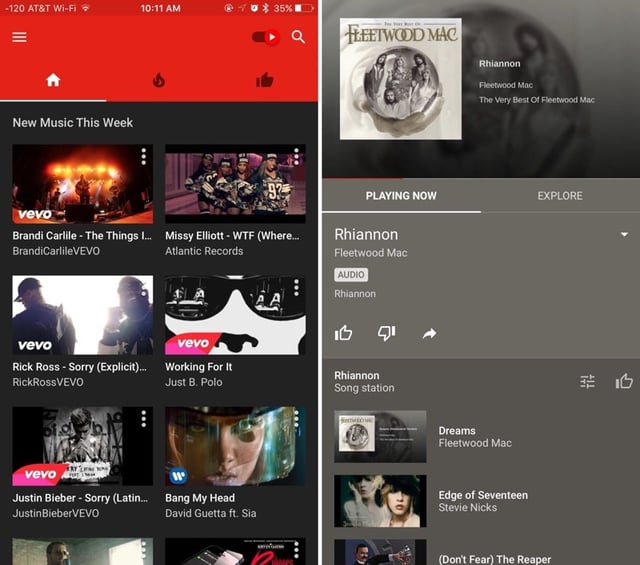 With the proliferation of Wi-Fi enabled speakers that stream music from the likes of Spotify, Amazon, Pandora and Apple Music, YouTube/Google recently introduced a revamped YouTube Music that will be coming soon. A cross between YouTube and Google Play (the latter which will soon be phased out), YouTube Music is essentially Google's response to the many people who use YouTube as a means to stream their favorite music (whether they watch the accompanying videos or not.)
Question is...is it any good? We'll leave it up to you decide for yourself when it's made available, but experts across the board seem to agree that although the intents behind the mobile app are good (there is not a desktop app yet), there's still room to improve for YouTube Music to get people to switch from Spotify, Apple Music, Pandora, etc. Some features such as location based music suggestions seem popular, and the vast library of album tracks and live performances are great. But in terms of some new features that other music stream don't have, YouTube Music may not be compelling enough to make a switch, unless you want to watch music videos (which you can already do via YouTube.) The $9.99 price point fits nicely in line with the others, and it makes even more sense to go for the $13.99 YouTube Premium option, which includes access to YouTube's custom content programming and commercial-less content in addition to the YouTube Music subscription.
Lastly, since this is a Zyxel blog, we'd be remissed to not sprinkle in some tech advice here, too! Case in point, how do you stream music to your speakers in your home or office? Do you use Bluetooth or Wi-Fi to connect? Bluetooth for a long time had it's advantages, but it's short range and heavy compression can reduce the quality of your music. Wi-Fi has a much larger bandwidth than Bluetooth giving it the ability to stream lossless audio. This means all the information that leaves the audio source will be received by your audio amp. It also follows you wherever you have a Wi-Fi signal.
What are your thoughts? What features would you like to see in YouTube Music? Let us know in the comments!