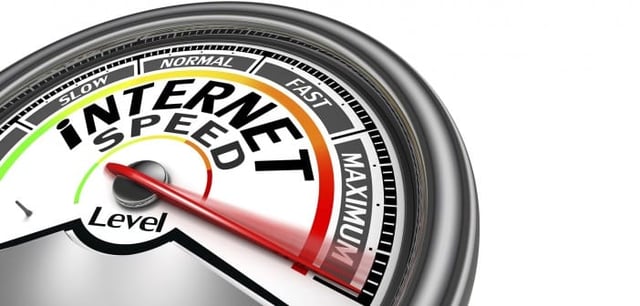 Thinking of upgrading your speed at home or work? Does your local ISP have a new gigabit plan they're trying to sell to you? If so, you may want to listen. Gigabit internet is the next best thing, and until you've tried it, you don't know what it is you're missing.
Compared to standard cable-based broadband packages, which offer download speeds of 20 to 100 Mbps, gigabit speeds are an exponential increase. That means speeds up to 1,000 Mbps, or 1 million bits per second. Over at Tom's Guide, he did a great job outlining the various reasons why gigabit internet is a good thing:
Streaming video:

All that bandwidth means lag-free Netflix, even when you're watching different shows on different devices at once. But the real improvement is that

4K streaming

which uses four to five times as much data as a 1080p stream will be just as fast, without the interminable loading and buffer times you may experience on standard broadband.
Online gaming:

Anyone who has ever lost a match due to a laggy connection will appreciate the switch to gigabit speeds. With matching up/down speeds, you'll never again need to worry about slow ping rates and spotty connections.
Immersive media:

Ultra HD streaming is just the tip of the iceberg, as faster upload and download speeds make more immersive media, like 360-degree video and

VR, more accessible. As higher data capacity goes mainstream, you can expect new media formats to take advantage of this, just as streaming video exploded when broadband became mainstream.
Data backup:

Traditionally, backing up data has been centered around local storage, like external hard drives, especially for data-heavy uses like videos. With the move to gigabit speeds, expect more cloud capability and backups that you can access anywhere, anytime.
Multiple users:

Finally, the biggest reason to switch to gigabit speed isn't to satisfy one prolific data hog, but rather several users. A family of four can max out a broadband connection quite easily with little more than a movie marathon and a round of Grand Theft Auto online, but gigabit speeds promise to support far more data simultaneously, making it possible to stream music in the kitchen, 4K video in the living room and a game in the kids' rooms without a hiccup.
If you've made up your mind and you're ready for a gig, make sure your router can handle those speeds. Our own Armor Z2 Dual-Band Wireless Gigabit Router is more than capable--it's particularly a powerful option for those who are big into online gaming, 4K video streaming and who transfer large files on a regular basis. To learn more, visit HERE.