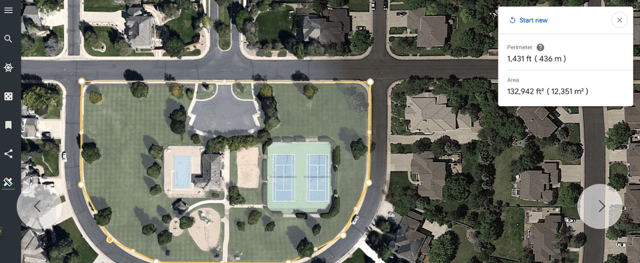 As if Google Earth isn't already extraordinary (and we aren't too proud to admit, a fun distraction when you need a moment to kick back and explore on your lunch break), the new measure tool makes it easy to quickly measure distances from anywhere to anywhere.
Measurements aren't new to online maps, but Google made it a lot easier. Simple select your starting point, and drag your line (or lines if you're plotting a route) and instantly determine your distances. Again, you could look it up on Google Maps and do the same thing, but Google Earth is faster and much interesting. Case in point, how far is the shore from your front door? How many miles is it to your favorite hiking spot? Google Earth can show you. Immediately.
Also, the new measure tool can show you the perimeter and area of anywhere you draw (and any shape) you draw on earth. How cool is that?
Available on Chrome and Android, Google Earth's new measure tool will be ready for iOS soon.