Employee Spotlight: Kenia Pena, Marketing Specialist at Zyxel
Every quarter, Zyxel shines a light on the talented team members. This quarter we are spotlighting the ebullient Kenia Pena, Zyxel's Marketing Specialist. Kenia is an expert in trade shows, brand promotions, and advertising. Her role helps keeps smooth sailing by coordinating around 100 trade shows a year from vendors to scheduling booths to arranging speaking engagements with Zyxel's product leaders. When presented with a challenge on her tasks, she looks for the ultimate solutions with a calm mindset and thinks outside of the box. Kenia will be going on her third anniversary this September and already has proven herself to be reliable and a pleasure to work with.
Let's get to know Kenia with this Q&A.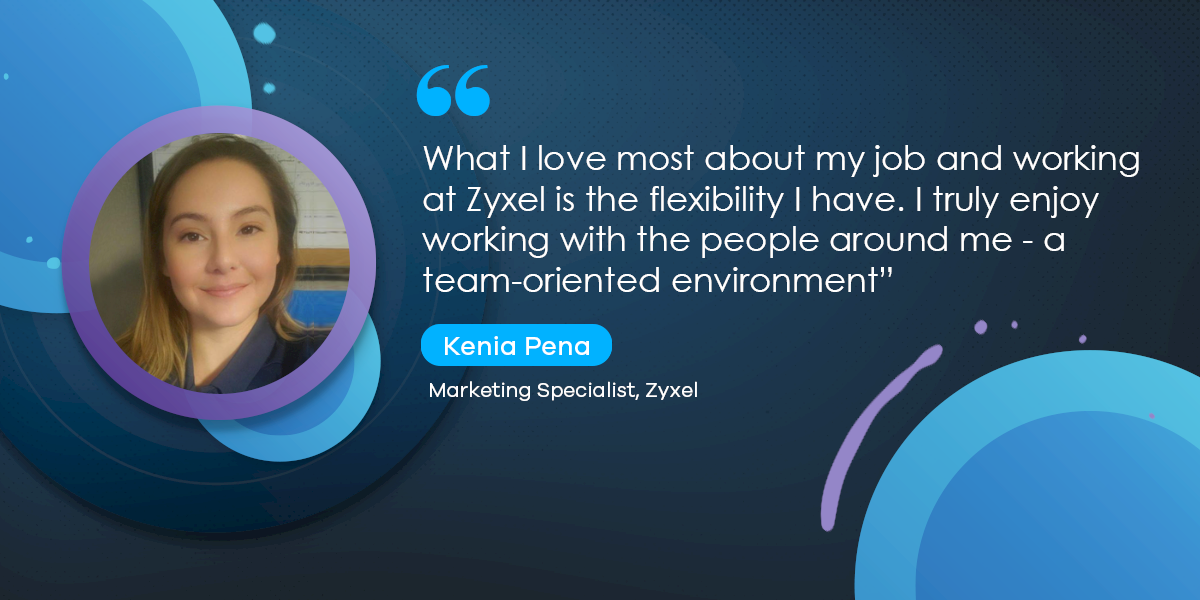 Q: How did you first learn about Zyxel and what made you apply for the company?
Kenia: My previous college professor mentioned the job opening and I decided to apply, and the rest is history.

Q: What does your job entail?
Kenia: I help manage our trade shows and work with our marketing team to develop our advertisements and webinars.

Q: What do you love most about your job and working at Zyxel?
Kenia: I love the flexibility I have, and I truly enjoy working with the people around me. A team-oriented environment.

Q: How have you grown professionally?
Kenia: Working at Zyxel, I feel like I've developed my interpersonal skills more.

Q: What is the one thing you can't live without?
Kenia: I don't think I can go without listening to music every day.

Q: What describes your personality best?
Kenia: That will be restless

Q: What's your ideal way to spend your weekends?
Kenia: Spending quality time at home with my dog.

Q: What's something about you (a fun fact) that not many people know?
Kenia: I do the "Hot Ones" wings challenge with my siblings every year or new lineup.