Zyxel's Layer 3 Access Switches Address the Growing Bandwidth Demands of SMBs, Hotels and More
You can invest heavily in expensive furniture and artwork, seating, and the general layout of the room but if your guests can't get a high-performance network on their devices then your customers will have a bad experience. Chances are they won't be coming back. Businesses can operate smoothly with better extensibility and robust network infrastructure. Zyxel's new versatile, feature-rich, cloud-managed Layer 3 access switches address the growing bandwidth demands of SMBs, hotels, schools, system integrators, and MSPs that run distributed 300- to 500-person networks.

The new XGS2220 Series 24/48-port GbE L3 Access Switches with 2 10GbE and 4 10G SFP+ Uplinks include six models, featuring PoE, non-PoE, and fiber versions, to ease deployment and maximize the performance of bandwidth-intensive devices such as WiFi 6/6E wireless access points, laptops, servers, and workstations. Designed to meet enterprise-level applications, XGS2220 Series switches support full Layer 2 features, including advanced features such as QinQ VLAN tunneling and VLAN translation, and Layer 3 static routing capabilities, granting users more control over larger and more complicated network structures.

Tri Nguyen, Channel Sales & Product Development Manager at Zyxel explained, "The increasing bandwidth requirements of high-performance network devices such as WiFi 6/6E access points and workstations, and advanced applications such as networked AV and surveillance, are creating network chokepoints that negatively impact their performance and effectiveness." He added, "The new XGS2220 series switches deliver performance, versatility, and ease-of-management that makes them the ideal solution for upgrading existing network infrastructures to take advantage of the latest high-performance devices and newest converged networking applications."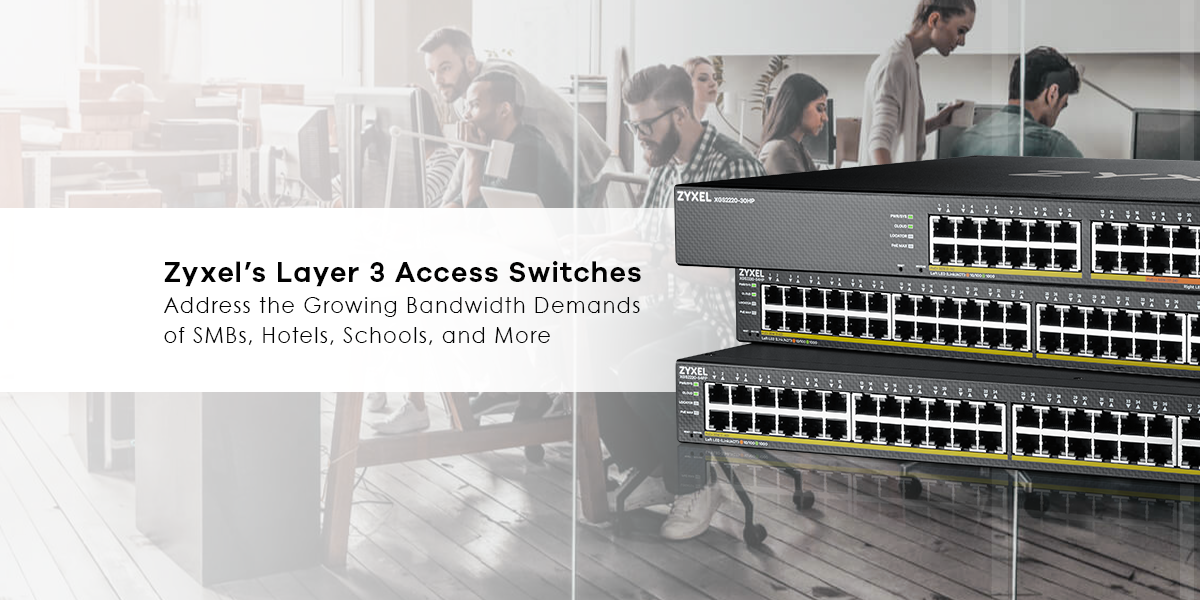 Robust network infrastructure
On top of four 10G SFP+ uplinks, the XGS2220 Series comes with two additional 10G Multi-Gig RJ 45 ports to offer the flexibility to connect to servers, network storage, or other high-speed network devices.

Flexibility in powering a full range of PoE devices
Within the range, the three PoE models of 30HP, 54HP, and 54FP can offer larger Power budgets of 400 W, 600 W, and 960 W respectively, these allow flexibility in powering a full range of PoE devices efficiently for applications like VoIP, surveillance, high-density networked AV applications and Zyxel's compressive WiFi 6/6E AP portfolio.


Physical stack of up to four units
XGS2220 series switches allow the creation of a physical stack of up to four units using the 10G fiber ports to provide high bandwidth for more flexible management. The stacking topology under the ring architecture provides high redundancy in case one of the stacking links fails, enabling the system to quickly recover through another stacking connection.

Quick access to the key AV network elements
When deployed in Networked AV mode the switch gives you a dedicated dashboard allowing quick access to the key AV network elements such as IGMP and IP information as well as fast access to configuration functions often associated with AVoIP deployments.

Manage in standalone mode or in Nebula cloud-managed mode
XGS2220 series switches can be managed in standalone mode, or in Nebula cloud-managed mode, giving organizations flexibility in how to manage and operate the switches. The switches come with a one-year Nebula Pro license which provides simplicity, scalability, and flexibility in management.

For pricing and detailed information about the new family of XGS2220 Series switches, go here.