Zyxel Networks Receives Awards from ChannelPro SMB Forum: "Best Hardware" and "ROI Lightning Round"
With the return of face-to-face events, Zyxel Networks is participating at every ChannelPro SMB Forum this year. The 2022 ChannelPro SMB Forum tour comprises IT decision-makers, channel partners, Managed Service Providers, and Integrators. The forum takes place in six cities throughout the United States. Attendees will learn the trends in IT solutions for small and midsize businesses, interact and collaborate with tech experts and influencers, and opportunity to attend informative sessions and workshops. Tri Nguyen a Market Development Manager at Zyxel Networks remarks, "ChannelPro has had a long-standing relationship with Zyxel and ChannelPro has covered our products and solutions for many years. Zyxel's participation in these regional in-person events allow us to engage with existing and new partners who have seen Zyxel products in digital and magazine publications. We want to solidify relationships and build new bridges providing options to MSPs for their networking needs."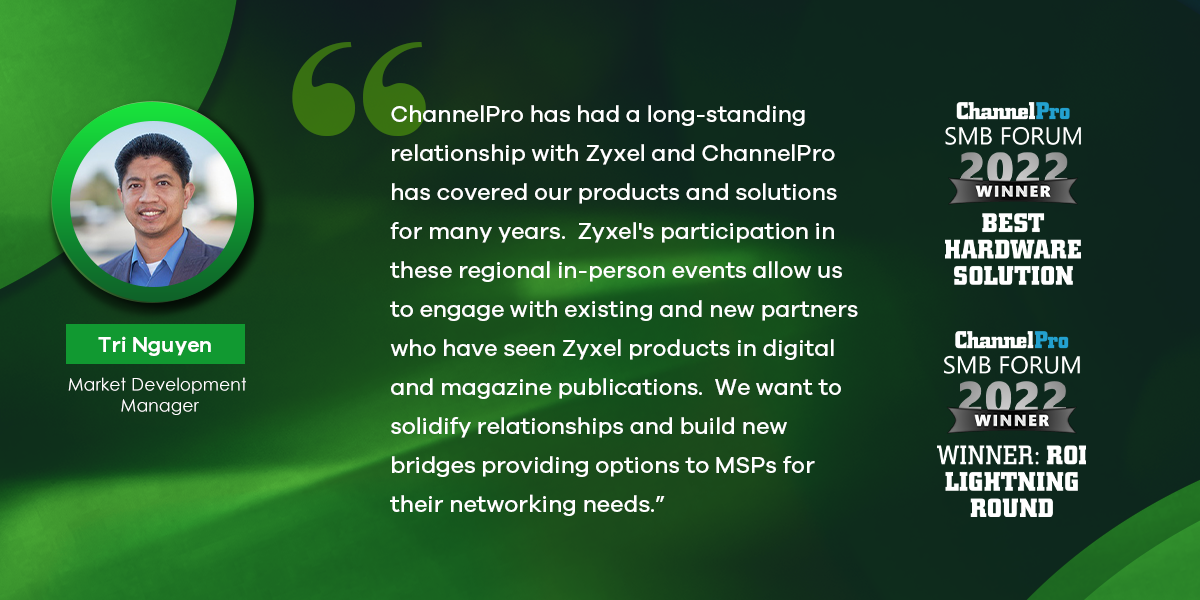 During the recent 2022 ChannelPro SMB Forum tour, event attendees, which included managed service providers and integrators, voted to honor Zyxel with the award for "Best Hardware" at the Newark, NJ, event, and named them the winner of the "ROI Lightning Round" at the event in Chicago, IL. Tri Nguyen who has been actively manning Zyxel Networks booth says, "We're particularly proud of these awards because they resulted from the votes of the service providers and integrators in attendance at the events." He adds, "Our Nebula Cloud Networking Solution provides MSPs with a broad portfolio of products that enable them to offer their customers a complete, scalable, secure networking solution that reduces operating expenses, eases network management, and enhances the customer experience."

If you are attending ChannelPro event on June 6, we encourage you to register at this link using the code "ZVIP22" to receive complimentary tickets.