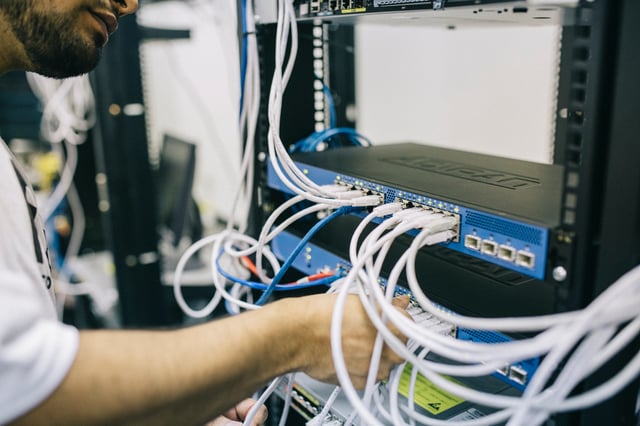 Do you run a business where clients, partners, vendors, or even remote employees work in your office temporarily? Do you have people who visit regularly and routinely ask if they can "borrow" your WiFi password? Whatever the case, you want to make sure your business's network stays secure while still offering important business guests some low-key WiFi access, too.
The most important factor in setting up your guest network is how you enable access. There are many ways to grant someone access to your company's WLAN:
You could provide each person with the name of your guest network/SSID and a password (often via a sign inside the building, on business cards, etc.)
You could build a login portal that takes requires guests to login using their name and email (you can then save/monitor their traffic while in your office.)
You could even have someone log into your WiFi through social media (Facebook being the most common).
Last but not least, you could leave your guest network wide open, with no login or password required. (We know, it may seem counter-intuitive, but an open guest network may prevent guests [wanted or unwanted] from logging into anything else.)
No matter which way you set up your guest network (ahem, we suggest your local IT professional set it up for you), it's important to make it easy for guests to login and limit the need for your staff to physically or manually interfere in the process. Furthermore, to prevent unnecessary bandwidth usage, it's recommended you limit guest access to avoid particular websites, and keep only basic internet services open on your network (I.e., guests can send emails and search on Google, but they won't be allowed to stream Netflix from your conference room.)
Once you have your guest network setup (again, your IT professional can do this easily), and have figured out what is the best mechanism to grant access to your guest network, it really comes down to common sense to make sure things stay secure. Don't leave hidden SSID passwords to your main network in places where guests or strangers may see it. And, be sure and change your passwords (both the guest network and your business's wireless network) periodically. And please, don't use the same password for all your WiFi networks.
If you're really concerned about keeping unsuspecting visitors off your business's WiFi (really though, a properly set-up guest network is quite secure), you could consider adding an entirely separate network for your guests. That's a lot more work and requires separate hardware, but it's a feasible option for those who want total network security.
Hope that helps!
At Zyxel, we have plenty of options to choose from when it comes to setting up business networks, whether it be your main network, guest network or both. Check out what we offer right HERE.