Hybrid Work is Now Trending, are Your Networks Secure?
It's common knowledge that the pandemic had fundamentally changed the world of work. Executives and HR leaders are looking into a safer and balanced work-life at the same time providing and protecting employees' work devices connecting to the office network. And so, this confirms that the future of work is "hybrid" meaning a combination of working from home and collaboration and relationship/team building in the office. According to forbes.com hybrid work is trending where most professionals want to work 2-3 days remotely, and they have proven that the hybrid model is effective. Forbes.com also mentioned that 73% of knowledge workers want to divide their week between home and office.

Tri Nguyen, Market Development Manager at Zyxel Networks says, "Balancing productivity and security are the essential factors to consider with hybrid workers conducting business on home WiFi networks shared with home devices, smart televisions as well as other family members taking hybrid courses. With VPN and SecureWifi, not only can security policies be enforced, but ensures that traffic communication between the remote users and main office are encrypted and secured."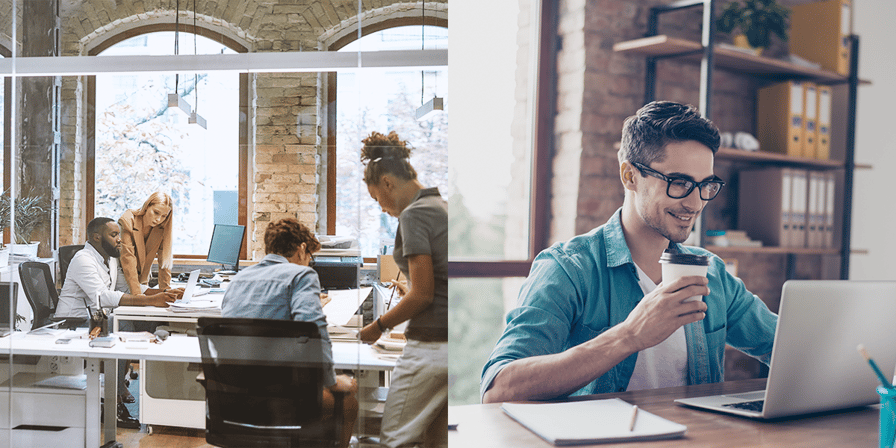 Virtual Private Network (VPN)
Virtual Private Network (VPN) technology enables secure connections from home back to an office. Employees working from home can securely access all office network resources as if they were in the office. Applications range from data entry to remotely printing shipping labels for staff in a warehouse.

A working-from-home setup can consist of a VPN firewall box in the office and VPN client software running on each computer, tablet, or phone at home. In situations where a PBX IP phone from the office is now being used at home, the solution is to also install a VPN firewall in the home (not required for a cloud-based PBX). The VPN firewall at home will then connect all networked devices in the home, including the IP phone, back to the VPN firewall at the office. In this scenario where a VPN firewall is installed in the home, VPN client software is not needed on computers in the home – the firewall negates that need.

Secure WiFi - Work like you're at the Office
Whether it is a wired, wireless, or IoT device, the Secure WiFi service ensures the same network controls which can be applied to headquarters and other remote workplaces. Easily and securely extend the working experience as if you were in the office with the adoption of secure tunneling and strict two-factor authentication.

Secure Tunnel (L2) allows you to have the same VLAN in multiple remote locations, get connected to the headquarters from home. It extends the workplace desk experience anytime and anywhere. Laptops and VoIP phones work just like they do at the office.

To make it user-friendly, Secure WiFi collaborates between the remote access points and headquarter gateway by eliminating repetitive 2FA logins, which significantly helps IT securely and easily extend the corporate enterprise network.

For more information about increasing your productivity and security protection, we got it covered right here.
Want to balance work more harmoniously with life? Zyxel Networks can help you with a fast and easy guide for connecting from home to the office network with this video.