Flex Your Networking Muscle with NebulaFlex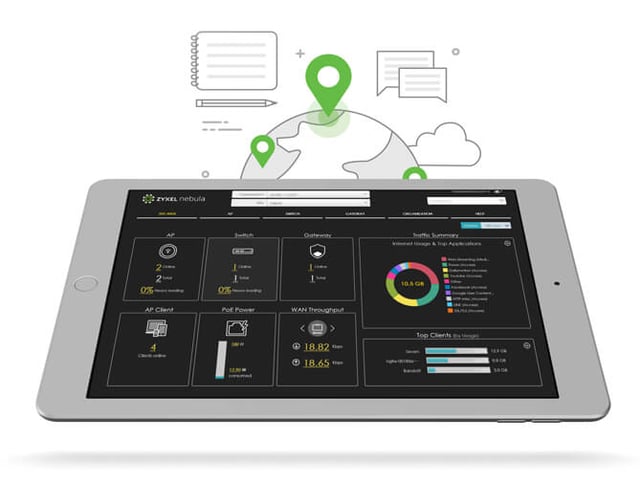 Need a fast, easy solution to manage your business's network? We hear you! Last thing you need is a network that is cumbersome to deploy and manage. And it's not just the hardware that can be complicated– routine firmware updates and on-site visits can take up valuable time, costing you and your business money.
Thankfully, there's NebulaFlex, a desktop and mobile application that enables you to manage your entire network at the click of a button, anytime and anywhere. There's no complicated software to install, or additional hardware. Instead, a variety of Zyxel standalone access points to be managed via the cloud without any monthly or annual fees using the Nebula Cloud Networking and Management Solution. Speaking of which, NebulaFlex enhances the versatility of Zyxel access points by enabling them to be managed individually on the premises as a traditional standalone access point, or from anywhere via the cloud utilizing the Nebula Control Center.
(NebulaFlex, which is available as a free firmware upgrade, currently supports the Zyxel NWA1123-AC HD 802.11ac Wave2 Dual-Radio Standalone Access Point, NWA1123-AC PRO 802.11ac Dual-Radio Dual Mount PoE Access Point and NWA1123-ACv2 802.11ac Dual-Radio Ceiling Mount PoE Access Point.)
NebulaFlex also gives users of supported Zyxel access points the ability to easily switch from managing multiple standalone access points to a cloud-managed network infrastructure without having to replace existing equipment or purchase additional hardware controllers or software. Network management utilizing the Nebula Cloud Management Solution simplifies the network infrastructure and offers simple, intuitive and scalable management for networks of all sizes.
Zero-touch hardware provisioning and centralized remote management make the system easy to deploy and manage by organizations without extensive IT expertise. Zyxel's Nebula Cloud gives users 24/7 access to the Nebula dashboard, device/client monitoring, event logs, and more from anywhere in the world at no extra cost. For more complex network management requirements, users can upgrade to the Nebula Professional Pack license which provides granular, enterprise-class features.
"NebulaFlex gives users a simple, affordable and logical upgrade path for deployments of the NWA1123-AC series of access points," explained Shawn Rogers, Market Development Manager at Zyxel. "As organizations grow and their network demands and requirements increase, NebulaFlex enables users to transition to a complete cloud-managed solution by managing the same high-performance access points using our powerful Nebula Cloud Management Solution."
NebulaFlex is currently supported in the NWA1123-AC HD, NWA1123-AC PRO and NWA1123-ACv2 with firmware version 5.20 or higher. Zyxel's business-class access points carry a limited lifetime hardware warranty, free 90-day basic technical support and free firmware upgrades with no support contracts.