Introducing the new USG Flex Series from Zyxel
With the rising trend in working remotely, a business office network has to offer employees not just connectivity but also security. Introducing the new USG FLEX Series from Zyxel. The new USG FLEX series is a new series of firewalls and built on high performance hardware with the ability to achieve up to 1.25 times firewall performance and 5 times UTM performance gain. In other words, with the new level of performance the newly designed platform protects small and medium-sized businesses from the growing threat of cyber attacks.

USG FLEX Series supports IPsec, SSL and L2TP-based VPNs making it an ideal solution for providing secure network to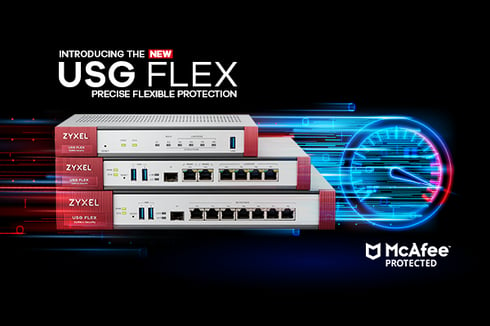 access remote or home-based workers. Zero-configuration remote access removes complicated setup challenges making it easier for employees to establish VPN connections to the office without the need for IT support. The USG FLEX Series is cloud managed ready giving the ability to be managed in a standalone mode or a centrally control via Nebula, when the support becomes available.

Reasons why USG FLEX Series' features are essential for an ever-evolving business security landscape:

1. Higher Detection Threats Rate
The USG FLEX Series supports advanced Anti-Malware with cloud query express mode. The cloud query with high detection rate helps verify the file hash within seconds.

2. Multi-Layer Security All-in-One box
Zyxel partners with industry leading security experts to deliver top-grade security in one-box. We leverage a multiple-source database to increase malware coverage. This increases the accuracy in threat detection.

3. Work Remotely and Securely is as easy as 1-2-3
The USG FLEX Series offers IPsec, SSL or L2TP based VPNs to provide flexible secure network options for many of the common operating systems.

4. Flexible Subscription
Users will be able to migrate existing, unexpired USG licenses to the new USG FLEX Series hardware. There is no need to purchase licenses from scratch. Users can also choose single license configurations where the need arises for Web Filtering, Anti-Malware, and many more.

5. Comprehensive Connectivity
Zyxel's USG FLEX Series not only can protect your network, but it also supports hospitality features including hotspot guest network access and can function as an access point controller for quick configuration and deployment of WiFi networks.

Tri Nguyen, Market Development and Product Manager at Zyxel pointed out, "The speed of internet connections available to small businesses continues to increase. Our new USG FLEX firewalls deliver faster throughput in anticipation of future increases in internet speed. Indeed, some businesses may already feel that their existing firewall may have become a bottleneck on their network; our new USG FLEX firewalls can be a way to overcome that bottleneck.' Tri added, "But the need for faster firewalls is only part of the story. The threat of security attacks has heightened as an increasing number of people work from home due to the COVID-19 pandemic. USG FLEX provides robust security to protect the network within the physical walls of the organization while also giving remote workers secure access from remote locations to ensure that businesses can continue to operate efficiently even when their teams are geographically separated."

The new Zyxel USG FLEX Series includes the following models at launch:


USG FLEX 100 (USG40v2) - UTM 360Mbps; 40 IPsec/ 30 SSL

USG FLEX 200 (USG60v2)- UTM 550Mbps; 100 IPsec / 60 SSL

USG FLEX 500 (USG100v2) - UTM 800Mbps; 300 IPsec / 150 SSL

Learn more about the USG FLEX Series by watching the video below.